Keep your carpets clean to avoid dust allergies and build up of harmful pathogens. Make your own homemade carpet freshener with essential oils to deodorize and disinfect your carpets.
Does Your Carpet Need Some Freshening Up?
Carpets may finish the look of a room and give your home a cozy look – but if you don't clean them regularly, they could be a haven for all sorts of pathogens, especially dust mites, which love dusty habitats.
Some of the signs that your carpet needs a good disinfectant cleaning include:
Your carpet looks visibly dirty – Perhaps it's just a few pet stains and a few spills here are there – or may be the whole carpet seems to have changed color.
Your carpet smells – There's a noticeable odor up in the air, and you're pretty sure it's coming from something down below.
Increase in allergies – Everyone seems to be sneezing more when they're around – or rather – on your carpet.
Benefits of Using Natural Ingredients
In this natural homemade carpet freshener recipe, we'll be using all natural ingredients, including essential oils. Here are some of the benefits of each of the ingredients you need in this homemade carpet freshener:
Don't Miss: Our Essential Oil Ebooks
» Baking soda – Baking soda is an amazing natural deodorizer that actually works by drawing out the odor from your carpets.
» Lemon essential oil – Smells fresh like lemons and is great at neutralizing any type of bad odor.
How to Make a Homemade Carpet Freshener with Essential Oils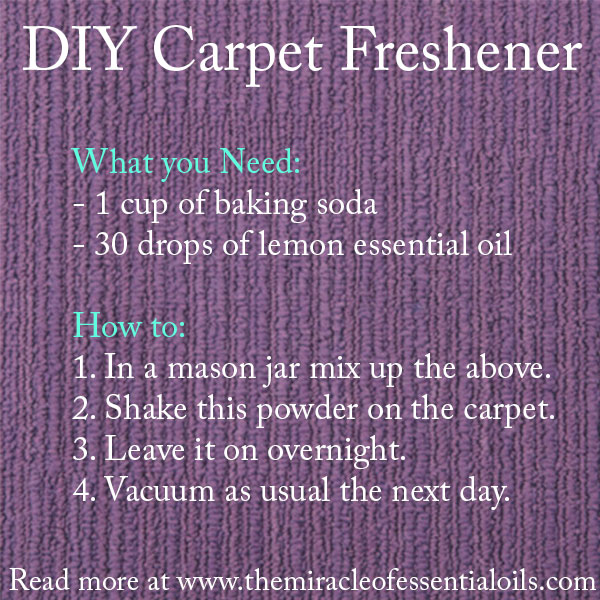 What you need:
Method:
In a large mason jar, pour in the baking soda and lemon essential oil.
Close the lid and shake to mix the contents.
Store a little in a cheese shaker so it's easy for you to use each time you want to freshen your carpet.
How to use:
To use your homemade carpet deodorizer, first blot out any remaining moisture such as from pet urine, using paper towels or tissues.
Scrub and clean the area with a homemade carpet stain remover if needed.
Coat the area of the carpet that needs freshening up with a medium-to-thick layer of your carpet powder.
Leave it on overnight to work its magic.
Then next day, vacuum as usual.
Tips
If your carpet is not stained, and you just want to deodorize it, skip the cleaning and just dust the powder and vacuum after 20 minutes or leave overnight and vacuum the next day.
Make a batch of this carpet cleaner and store in a cupboard so that you can use it any time you need to.
Have a carpet cleaning machine (Rug Doctor)? Then check out our 2 Non-Toxic DIY Essential Oil Carpet Cleaner Recipes! Yup, these solutions are safe to use in a Rug Doctor!
Do you have a homemade carpet freshener recipe? Share with us in the comments below!