Are pests ruining your garden but you don't want to use toxic pesticides? With open arms, welcome this homemade essential oil pesticide! It uses natural minimal ingredients and works effectively!
This homemade essential oil pesticide can be used for your garden, herb patch, vegetable patches, indoor plants and flower pots. It repels pests like aphids, gnats, beetles, worms, weevils, caterpillars, slugs, snails, ants and spiders.
What makes it even better is that you can also take it for picnics, outdoor events and garden parties! Do creepy-crawlies always make you shriek and jump ten feet in the air, beating your clothes like crazy to get rid of the thing? Then you can carry this homemade essential oil pesticide with you. Spritz in the air when around lots of plants. It also keeps away mosquitoes, ticks and fleas.
Homemade Essential Oil Pesticide Recipe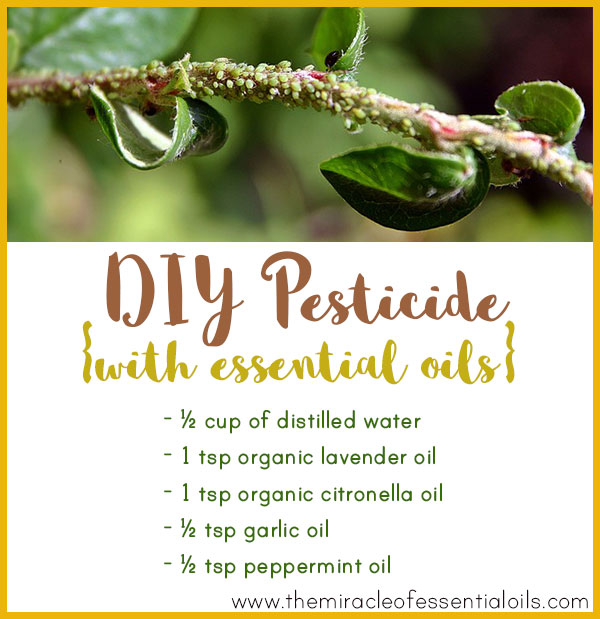 Don't Miss: Our Essential Oil Ebooks
What you Need
Method
Into your spray bottle, add all the oils.
Top with distilled water and shake well.
To use, spray on your plants.
You can also spray in the area around you when in the garden or a picnic to keep away bugs.
Store in a cool dry place.
If you're using it on herbs or vegetable, then ensure to wash them very well before cooking/consuming. Though this homemade essential oil pesticide is all natural, it contains a large quantity of essential oils, including ones which shouldn't be consumed.
Caution
Keep this homemade essential oil pesticide away from children and pets.
You may use gloves when spraying.
If you're new to essential oils, please read this first: Caution & Safety Information when Using Essential Oils