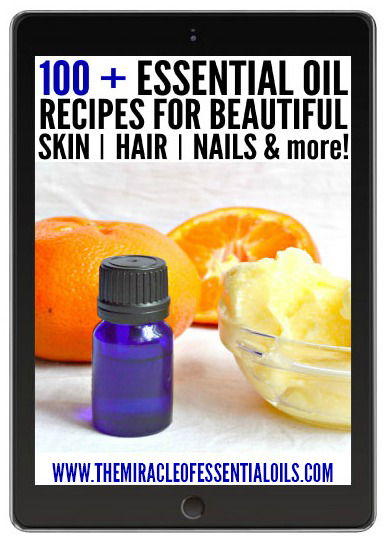 Discover Over 100 Effective Essential Oil Recipes to Rejuvenate and Heal your Skin, Hair, Nails & more!
If you've recently bought a few essential oils or have been using essential oils for years and would like to get started on making your own hygiene and beauty care products THAT WORK, then this eBook is for you!
What you'll find in this eBook:

This eBook contains effective essential oil recipes that really work! There are ten chapters in this eBook, with the first chapter being an Introduction to essential oils, talking about what exactly they are, their brief history and a few essential oils used in the eBook and their miraculous properties & uses.
The rest of the chapters are divided into Bath, Body, Face, Hair, Perfume, Makeup, Lips, Nails & Teeth with each of them having amazing recipes for DIY shampoo, body wash, face serum, roll-on perfume, hair mousse, DIY lipstick, etc that I hope you'll love as much as I do!
Note:
This is a digital eBook, currently available in PDF format, not a physical print book. When you purchase it, you'll immediately get an email with a download link so you will be able to view all 100+ juicy recipes as soon as you buy the eBook!
Here are a few of the recipes you'll find inside:
Each recipe contains a brief description of the product, the correct amount of each of the ingredients you'll need plus clear and simple directions to enable you successfully create the product from start to finish!
BATH
Fresh & Kicky Shower Gel
Foaming Citrus Body Wash
Weekly Detox Bath Recipe
BODY
Shaving Cream for Smooth Skin
Refreshing Deodorant
Feel Good Foot Soak
Massage Body Oil
Luxurious Whipped Body Butter
FACE
Pore-Cleansing Face Wash
Sandalwood Face Oil for Sensitive Skin
Overnight Facial Scar Treatment
Anti-Aging Night Cream
DIY Beard Balm
Geranium Gel for Wrinkle-Free Skin
Night Time Oil for Hyper Pigmentation
HAIR
No More Dandruff Tea Tree Shampoo
Stimulating Hair Oil Blend for Bald Patches
Natural Hair Butter
Knot Detangler for Wild Locks
Alcohol-Free Hair Spray
MAKEUP
Tinted Lavender Face Powder for Medium Skin Tone
Cleansing Makeup Remover
DIY Soft Pink Lipstick
PERFUME
'Mysterious Magnet' Body Oil Spray
Sensational Solid Perfume Recipe
NAILS
Nourishing Nail Oil for Healthy Long Nails
Powerful Blend for Nail Fungus
Moisturizing Myrrh Cuticle Oil
TEETH
Minty Mouthwash
Squeezable Toothpaste for Clean & Healthy Teeth
AND SO MUCH MORE!