What are the essential oils you can use neat and when is it a good idea to use them undiluted? Is it really safe to use essential oils neat? These are some of the questions we'll be answering today.
What Does it Mean to Apply an Essential Oil Neat?
Essential oils are precious and valuable liquid substances derived from pressing or distilling large quantities of plant matter. Being so concentrated, it is obligatory to dilute essential oils properly before applying them.
However, there are exceptions to this rule. It is generally agreed upon that certain essential oils can be applied 'neat'.
Applying an oil 'neat' means applying it without any dilution, directly onto the skin, at 100% concentration.
When Can You Apply Essential Oils Neat?
Application of essential oils neat is often not a good idea, but can be done under the following conditions:
For one-off applications, once in a while
When using it on a bug bite or bee sting
For immediate relief on burns
When done under the care of a licensed practitioner
For sores or warts
On acne/pimples
Top 12 Essential Oils You Can Use Neat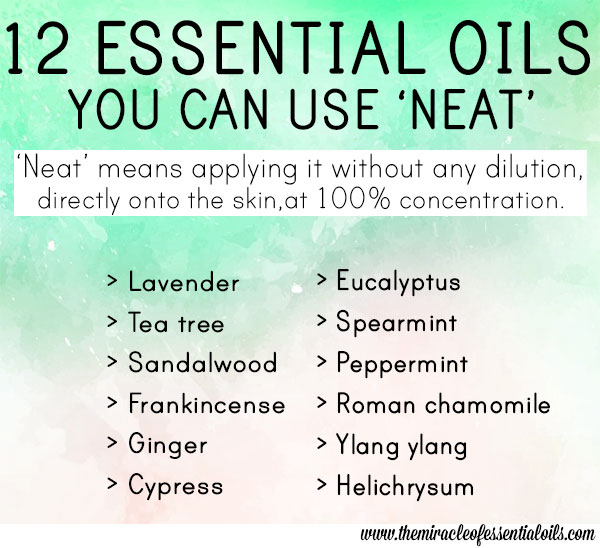 Here are the top 12 essential oils you can use neat:
Two Schools of Thought
When it comes to using essential oils neat, there are two groups of people:
1. Those who say there is no situation that warrants the use of essential oils 'neat' – This group believes it is unnecessary to apply essential oils neat and that the risks of applying an oil neat far outweigh the benefits.
Some of the risks of applying essential oils neat, according to this group, are skin irritation and chemical burns. By far, the most concerning risk is that the person may develop skin sensitization, which is a lifelong consequence that cannot be cured. To find out more about this, read: Essential Oil Sensitization
2. Those who say it is okay to use essential oils neat in certain situations – This group believes that essential oils used neat when the situation warrants it, such as for immediate burn relief, bee stings, warts etc, can be very beneficial in addressing the ailment. In such cases the essential oil is only applied to a very small area of skin.
Guidelines for Essential Oils You Can Use Neat
If you are planning to use essential oils neat, make sure you are following certain guidelines:
» Always use pure, unadulterated oils to avoid adverse reactions
» Do not use more than 1 drop when using essential oils neat
» Do not apply the same essential oil 'neat' for more than 3 days at a time
» Prolonged use of any essential oil, whether diluted or not, is not recommended
Do you have any questions about essential oils you can use neat? Ask in the comments below.