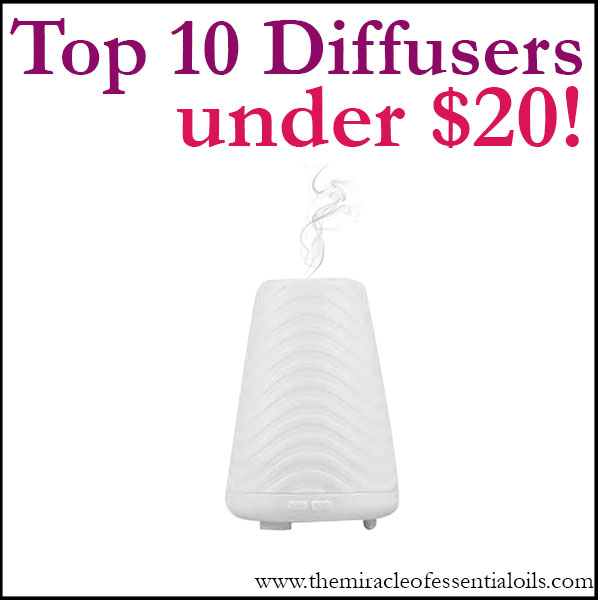 Diffusers are among the first things you just have to get when you buy essential oils. That's because they're the safest ways to use essential oils – even for your babies, kids and during pregnancy. But sometimes they can be a little too expensive.
The first diffuser I bought for my bedroom was over $50 and it works great. But I was thinking buying several more affordable diffusers for different locations of the house would be splendid!
So below, I've listed down 10 of the best essential oil diffusers under $20 for those who want to buy many high-quality diffusers to use in multiple locations – without breaking the bank!
Top 10 Best Essential Oil Diffusers Under $20
1. Turbot Aromatherapy Essential Oil Diffuser
Price: $17.99
This diffuser is amazing – it comes with 7 color changing LED lights that you can leave to keep changing or set to one color. It acts as a good night light for the kids' room. It also has a powerful scent that lasts long. You only need to add about 5-7 drops!
Pros:
It's also a cool mist humidifier which puts out moisture into the atmosphere.
It's a portable diffuser and can be used for yoga, the gym, bedroom, the office and even your baby's room.
As mentioned above, it's safe to use in your baby's or kids' room.
When the light is off, there is completely no light unlike many diffusers that remain with light coming from the power button even when the light is turned off.
Has easy to follow and understand manufacturer's directions written right on the box. No need for tiny print booklets that you have to sit down and decipher for hours!
Small and clean-looking.
Auto-shut off.
Cons:
Haven't seen any so far!
2. TaoTronics Essential Oil Diffuser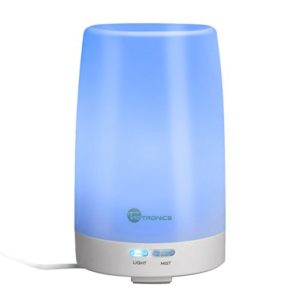 The main thing I like about this diffuser is its minimal look yet lovely LED color lights. It's also amazing in that you don't need to put a lot of drops to get the scent. It actually just needs very few drops as it states in the instructions unlike many other diffusers which say 2 – 3 drops but end up needing quite a lot more.
Price: $16.99
Pros:
Has a modern and minimal look.
Uses only 2 – 3 drops of essential oil per 100 ml of water which is essential oil cost effective.
Lovely colors that are very attractive.
Cons:
Run time is only 3 hours so you have to refill every several hours.
3. KMASHI Aromatherapy Diffuser
This is a wonderful diffuser! It's minimalistic 'bee-hive' like design looks quite nice! Only 4-5 drops are needed to scent up a medium-sized room. You can use it in the baby's or kid's room as a night light. Don't put a lot of water as you'll have it leaking on the table.
Price: $19.99
Pros:
Automatic shut-off.
Is very quiet.
Is also a humidifier.
Minimalistic design great for small spaces.
7 LED color lights with rotating, stationary and no-light options.
Only 4-5 drops needed for powerful scent.
Cons:
The LED light is a bit too bright that some people can find it distracting to use as a nightlight.

Turning it off can be a bit irritating since you have to press on the buttons several times to go through all the options to turn it off.

A lot of water added can make a puddle on the table.
4. MindScent Oil Diffuser and Humidifier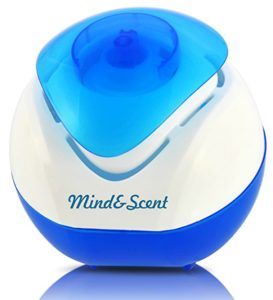 This tiny diffuser is adorable and perfect for office use – you just need to plug it into your computer while you work away. You can add just a drop of rosemary to it for increased focus and mental clarity. It's also nice to use near your bedside table with a drop of lavender to quickly fall asleep.
Price: $ 19.95
Pros:
Comes with a USB so you can plug it in while working on your laptop.
Doesn't release mist (non-mist diffusers) so it's safe to use near electronic appliances and on wood surfaces without any problems.
Barely makes any sound.
Very portable to take it anywhere you go. Can even be used as a car diffuser.
Cons:
No automatic shut-off. You have to be around to turn it off by lightly pressing the cover at the top of the diffuser.
Very tiny – literally fits in your palm.
5. Ikubi Aromatherapy Essential Oil Diffuser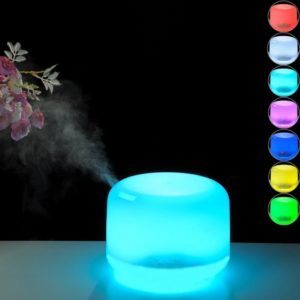 Wow! What a pretty essential oils diffuser! I really love how minimal but cute it looks. And it comes with 7 LED lights from pink to turquoise. It also has a high water capacity which I think is a major plus point.
Price: $19.99
Pros:
Has a high water capacity of 300ml.
Can last up to 5 hours with intermittent setting.
Automatic shut-off and very quiet.
You can tone down the lighting to make a good nightlight especially for the kid's room.
Cons:
I haven't seen any con yet except maybe it might be small for some people…But that's nothing because it diffuses well and has a large water capacity!
Alright, those are the top 5 best essential oil diffusers under $20! Now below are the next 5 best:
6. RadhaBeauty Aroma Therapy Essential Oils Diffuser
Price: $19.99
Main Features: 120 ml capacity, auto-shut off, 7 LED color lights, adjustable mist off, water-less auto shut-off
7. Codo Aromatherapy Diffuser
Price: $19.99
Main Features: 100 ml capacity, auto-shut off, water-less, humidifier
8. Aidodo Essential Oils Diffuser
Price: $13.99
Main Features: 100 ml water capacity, waterless auto shut-off , humidifier
9. URPOWER Essential Oils Diffuser
Price: $17.95
Main Features: 120 ml capacity, humidifier, portable, automatic shut-off & LED changing color lights
10. InnoGear Essential Oils Diffuser
Price: $19.95
Main Features: 100 ml capacity, humidifier, portable, automatic shut-off & LED changing color lights