Green cleaning is not just eco-friendly; it's cheap too! Find out what the top 10 essential oils for cleaning are, and 3 amazing recipes for cleaning all around the house.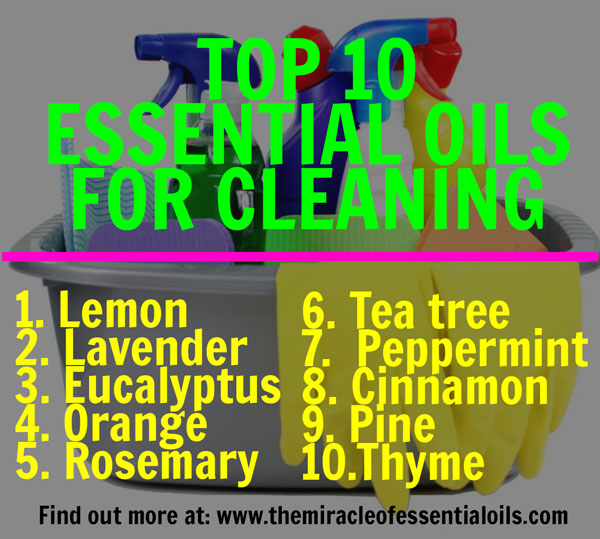 Going Green with Your Cleaning
Conventional cleaning products are filled with all sorts of nasty chemicals including endocrine disruptors, carcinogenic substances and DNA altering chemicals, which in the long term can cause fatal illnesses.
You may want to cut down on harsh cleaning chemicals if you have babies or children, too, because their immune systems are not as strong and they are still developing.
Going green with your cleaning is also wonderful for the environment, as ALL the ingredients you'll be using are natural and biodegradable!
Why Use Essential Oils for Cleaning
Essential oils are potent oily substances extracted from plants. They contain potent aromatic compounds that have healing properties for just about any mental or physical ailments.
What's more, essential oils can be used for cleaning, too! Their potent antibacterial, antiviral, antimicrobial and antifungal properties make them great for keeping your home sanitized and hygienic.
Their lovely scents will leave your home smelling fresh and fragrant.
Green cleaning can really help you save money too, for you only need a few drops of essential oils at a time!
Top 10 Essential Oils for Cleaning
How to Use Essential Oils for Cleaning
Here are some great recipes that you can use in cleaning around your house using essential oils for cleaning:
1. All Purpose Cleaning Spray
Try this wonderful all purpose cleaner that is so simple to make, yet is strong enough for daily cleaning. It contains no nasty hormone-disrupting, cancer-causing chemicals and is perfect for sensitive skin or if you have small children and pets in the house.
» What you need:
» Method:
Using your funnel, pour all the ingredients, except the oils, into the spray bottle.
Next drop in the essential oils.
Now screw on the cap and shake vigorously to get it all mixed well.
Spray this on dirty surfaces, allow to soak for up to 20 minutes and wipe clean with a microfiber cloth.
2. All Purpose Cleaning Powder
For really tough stains, crusty cookware, grimy floors, kitchen sinks and bath tubs, you'll need an abrasive powder or a scouring powder. This all purpose cleaning powder is just the thing you need.
» What you need:
» Method:
Measure out and pour all the ingredients into a glass jar.
Close the lid and shake vigorously to get all the contents mixed evenly.
Keep a long handled spoon into the jar and use it to scoop out as much powder as needed.
Coat the surface you need to scrub with some of the cleaning powder.
Spray some water on it and allow to soak for up to 20 minutes.
Then use a brush to scrub away the scruff and wipe with a microfiber cloth.
3. All Purpose Glass Cleaner
If you want shiny, sparkling and lint-free glass, make this all natural, all purpose glass cleaner with ingredients you already have at home. This glass cleaner can be used for windows, mirrors and more.
» What you need:
» Method:
In a large 16oz spray bottle, mix all the ingredients above.
Spray onto glass and rub with your microfiber cloth. Spots with stains may need more focused rubbing.
Use old newspapers to shine the glass for a lint-free finish.
What are your favorite essential oils for cleaning? Tell us in the comments below!