Essential oils are potent and concentrated plant extracts that have the power to relieve all sorts of skin ailments, including burns, stretchmarks, rosacea, psoriasis and of course, acne.
Acne, medically referred to as Acne Vulgaris, is a skin condition where by the oil glands at the base of the hair follicles in the skin produce too much oil causing the pores of the skin to become blocked, clogged and infected. This results in inflamed pores that are red, swollen, sometimes pus-filled, bumpy and itchy or painful.
Some of the causes of acne include:
Hormonal changes in the body (such as during puberty, pregnancy, menopause etc)
Hormonal imbalances (such as in some diseases such as hypothyroidism)
Poor skin care regime (like sleeping with makeup on, not exfoliating your face etc)
Using products that contain toxic ingredients
Allergic reactions to foods or self-care products
Some medicines (such as birth control pills)
Genetic reasons (those with parents who have acne are more susceptible)
Chronic constipation
There are many types of acne such as:
Whiteheads – tiny pimples that remain lodged under the skin
Blackheads -these are whiteheads that grow and come to the surface of the skin. Once out on the surface of the skin, they oxidize with air and become black
Pustules – red pimples with yellow pus on top
Cysts – Deep rooted pimples that are large, filled with pus and painful. These are stubborn and they take long to clear. They often leave behind dark scars and may form dents in the skin.
As varied as the types of acne are, a good acne reducing face mask can help you fight acne by:
Promoting hygiene and keeping your skin clean, thereby reducing the chances of acne
Balancing the oil production by your sebaceous glands
Actively fighting and killing bad acne-causing bacteria
Reducing the size and appearance of acne and pimples by reducing inflammation
Preventing existing acne and pimples from growing bigger and getting worse
Lightening scars and blemishes left behind by acne
Simple Antibacterial Essential Oil Recipe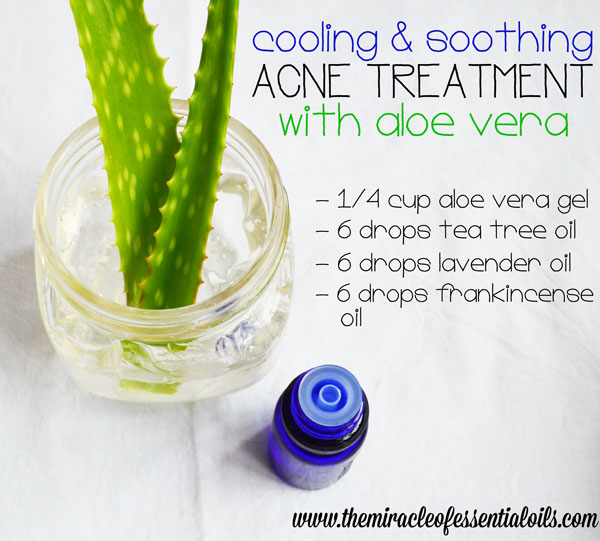 Here's a simple antibacterial acne essential oil recipe formulated to be used as a topical spot treatment for acne-affected areas. The recipe is basically a gel treatment that's completely natural free of all those nasty chemicals we often find in conventional acne treatment products. Here's how you can make your own acne gel as follows:
Ingredients
¼ cup of pure aloe vera gel
6 drops of tea tree essential oil
6 drops of lavender essential oil
6 drops of frankincense essential oil
Directions
Get a small 2 oz (preferably glass) container and measure out your aloe vera gel and place it in.
Now drop in your essential oils carefully and use a disposable wooden stick (like popsicle stick) to stir in all the ingredients thoroughly.
That's it! Your antibacterial acne treatment filled with wonderful acne and pimple fighting essential oils is ready!
How to Use
» Make sure you apply this treatment on a clean face. Wash your face with a mild cleanser and pat dry with facial tissues or a clean towel.
» Use this acne gel all over your face, or just as a spot treatment applied only on the acne-affected areas or pimples.
» You can use it 1 – 2 times a day, preferably once a day and night.
How Long to Store
This recipe will keep well for 2 years, if you handle it with care. Do not dip into the gel with wet or unwashed hands. Keep it tightly closed when not in use. Store it away from direct sunlight.