Find out the top 10 antibacterial essential oils for deodorant making at home!
Making your own deodorant at home is one of the best ways to limit the amount of toxins in your life. Think about it. Deodorants are filled with chemicals and heavy metals like aluminum that are linked to serious health complications like breathing problems and cancer. Would you want to slather deodorant on your underarms now?
Don't worry, deodorant making can't get any easier. I've found the ultimate, cheapest and effective DIY deodorant recipe that is fantastic! Before we get onto the recipe though, I want to share with you top 10 antibacterial essential oils for deodorant.
When making your own deodorant, it's important to consider adding an antibacterial ingredient to fight off germs and keep your underarms clean and healthy. Do you know that it's the bacteria on skin that actually causes body odor? Your sweat doesn't have an odor but when it mixes with bacteria on your skin, that's when you get things like B.O. So by using antibacterial essential oils, you can banish bad body odor too!
Okay, here's the list:
Top 10 Antibacterial Essential Oils for Deodorant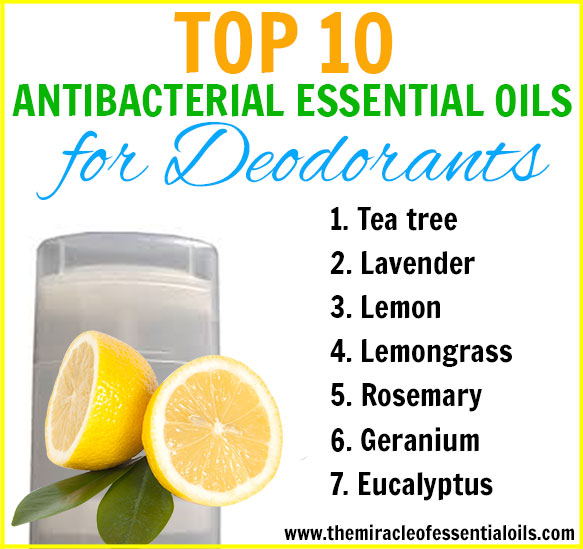 DIY Essential Oil Deodorant Recipe
What you need
Directions
Begin by placing 4 tbsp of shea butter in a small pan on the stove top.
Using low heat, gently melt it down to liquid form.
Once melted, remove from heat and add the baking soda and arrow root powder.
Stir well to form a creamy paste then let it cool off for about 3 minutes.
Now add 20 drops of essential oil then stir well till combined.
Finally, pour your creamy mixture into deodorant tubes or a glass container. Do not use a plastic container but if that's what you have, then you must let the mixture cool down before pouring it otherwise it'll melt the plastic.
That's it! Your DIY essential oil deodorant is ready! Let it set in the refrigerator for 30 minutes before use! If storing in a container, scoop out just a pea-sized amount each and apply on clean underarms.
Which of these ten antibacterial essential oils will you use for deodorant making? Share below!