So many people today are questioning, are essential oils a hoax? This isn't surprising because many people are fond of touting extraordinary claims about the healing powers of essential oils. Some of these claims include the cure for cancer, which are not clinically proven.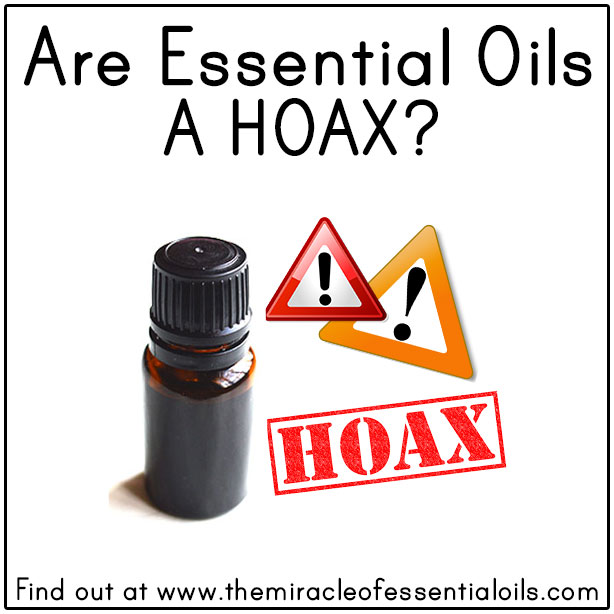 Are Essential Oils A Hoax?
Essential oils are potent, fragrant substances that are extracted by processing large quantities of plant/herb material. Being so concentrated, essential oils have concentrated amounts of unique compounds that are rich in anti-inflammatory, anti-oxidant, anti-bacterial and analgesic qualities, to mention but a few.
Yet it is easy to believe that essential oils are nothing but a fad.
Reasons Why People Think Essential Oils Are A Hoax
Here are three reasons why many people think essential oils are a hoax:
1. Sudden rise in popularity
Although essential oils have been used for the medicinal properties for millennia, it is only recently that the news of essential oils has swept our world. When something suddenly rises to fame, it is only natural for people to doubt its authenticity.
2. Aggressive promotion of essential oils
It is sometimes sickening to see the cult-like vigor with which certain essential oil networks aggressively promote their essential oils. Coupled with the fact that they compel you to only buy through their discount coupons, it's easy to see that many of these 'agents' only want to line their pockets. With so many people focused on making a quick buck by getting sales via their name, it's easy for others to think essential oils are just a money-making fad.
3. Heavy claims about essential oil cures
Some claims that are made about essential oils just seem too good to be true. While some of these claims may be backed by scientific research, others have little or no scientific based evidence. For example, essential oils are touted to hold the cure for cancer, yet the only few studies on this topic are highly controlled laboratory experiments rather than practical clinical studies. This can make people think that essential oils are a hoax.
Proof That Essential Oils Are NOT A Hoax
While it's easy to believe that essential oils are a hoax or just another 'trend,' there is compelling evidence that essential oils do indeed have medicinal and therapeutic qualities. Many scientific studies have been carried out on various essential oils, proving that they are not a hoax.
Here's a list of 10 most popular essential oils and related studies that have been carried out on them:
1. Lavender
Lavender is the most popular essential oil of all time, and for good reason. Distilled from the flowers of the lavender shrub, lavender essential oil is known as a natural sedative, sleep inducer and is used to treat insomnia. Lavender oil is also known to have positive effects on hair loss, anxiety, stress and pain relief. (1)
2. Tea tree
Tea tree, also known as melaleuca, is native to Australia and has been used for centuries by the aboriginals. Tea tree is revered for its high anti-bacterial, anti-microbial, anti-fungal and anti-viral properties. A study published in the Clinical Microbial Review in 2006 showed that tea tree oil anti-inflammatory properties in addition to antiseptic properties. (2)
3. Rosemary
Rosemary is a popular herb used in Mediterranean cuisine and from which rosemary essential oil is extracted. Another versatile essential oil, rosemary has been proven to improve memory and focus, relieve muscle pain, reverse hair loss and support the nervous and circulatory system. It also has anti-spasmodic properties. (3)
4. Peppermint
The most refreshing essential oil, peppermint is extracted via steam distillation of the leaves and stems of the peppermint herb. Rich in menthol, peppermint oil is minty, herbaceous and invigorating. Scientific research shows that peppermint is useful for indigestion, skin irritation and headaches. It is provides relief from respiratory congestion. (4)
5. Oregano
Known as the king of all oils, oregano essential oil is highly anti-bacterial, and unlike tea tree which is not safe for oral ingestion, oregano oil is generally recommended as safe to ingest (provided you are using the 100% pure, organic certified, heavy metal-free oil). (5)
6. Lemon
Although research on the benefits of lemon essential oil is limited, some studies show that it is a potent mood booster, helps relieve anxiety and assists in weight loss. The aroma of lemon is said to eliminate cravings and suppress appetite. Lemon essential oil is also found to be helpful in improving the condition of Alzheimer's patients. (6)
7. Eucalyptus
Eucalyptus essential oil is a highly researched oil that has powerful compounds such as eucalyptol and linalool. Evidence shows that eucalyptus oil is a powerful insect repellent, pain killer for sore muscles and headaches, fights plaque and gum disease and is a respiratory decongestant. (7)
8. Basil
Basil essential oil is extracted via distillation of leaves, flowers and stem of the basil plant. It is also known as tulsi essential oil. Known as a respiratory decongestant that helps relieve colds, flu and cough, basil essential oil has also been studied and found to be effective against strains of bacteria that are drug-resistant. (8)
9. Frankincense
Frankincense essential oil is extracted via the steam distillation of the resin harvested from the Boswellia tree. It is known to be helpful in dispelling depression, preventing scars and healing wounds. Frankincense is an essential oil that has a lot of buzz surrounding it due to numerous claims that it holds the cure for cancer. A study published in BMC Compliment Alternative Medicine journal in 2009 showed that frankincense exhibited potent anti-cancer activity, by killing cancer cells in vitro. (9) However, no clinical trials are available on the same.
10. Lemongrass
Lemongrass is a fragrant, fresh and herbaceous scented grass from whose leaves lemongrass essential oil is extracted. In 2014, a study published in the Libyan Journal of Medicine demonstrated lemongrass oil to be a potent antifungal substance and one which exhibited strong anti-inflammatory tendencies. (10)
References
(1) http://umm.edu/health/medical/altmed/herb/lavender
(2) https://www.ncbi.nlm.nih.gov/pmc/articles/PMC1360273/
(3) http://umm.edu/health/medical/altmed/herb/rosemary
(4) http://umm.edu/health/medical/altmed/herb/peppermint
(5) https://www.ncbi.nlm.nih.gov/pubmed/23484421
(6) https://www.verywell.com/the-benefits-of-lemon-essential-oil-88784
(7) http://umm.edu/Health/Medical/AltMed/Herb/Eucalyptus
(8) https://www.ncbi.nlm.nih.gov/pubmed/12732427
(9) https://www.ncbi.nlm.nih.gov/pmc/articles/PMC2664784/
(10) https://www.ncbi.nlm.nih.gov/pubmed/25242268
So are essential oils a hoax? Definitely not! Essential oils exhibit promising healing and medicinal properties, as shown by various studies around the world.