Using oils that are highly comedogenic can clog pores, create blackheads and lead to breakouts. Find out "are essential oils non-comedogenic" to prevent unnecessary damage to your facial skin.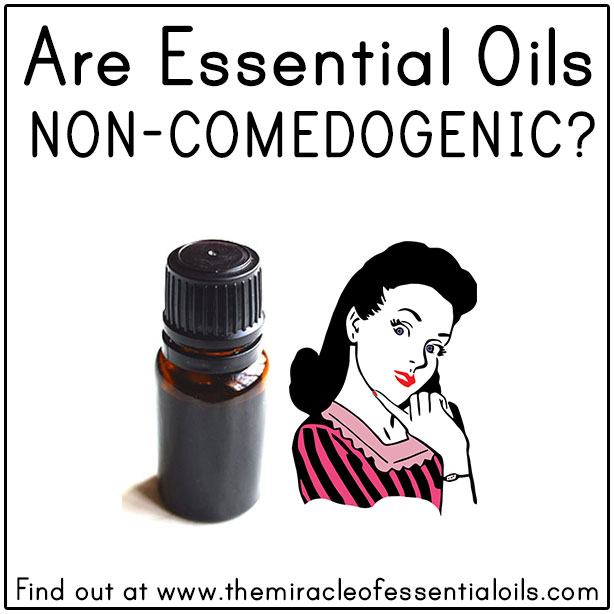 What is a Comedogenic Substance?
A comedogenic substance is defined as one that has a tendency to clog pores and lead to white heads, blackheads, pimples and acne.
The comedogenic rating chart shows the rate at which an oil is though to clog pores at a value from 0 – 5, where 0 means non-comedogenic (will not clog pores) and 5 means highly comedogenic (will clog pores).
Those with acne-prone skin should stay away from oils that have a comedogenic rating of more than 2.
Are Essential Oils Non-Comedogenic?
Essential oils are potent extracts derived by collecting the minute amounts of oil compounds present in plant material via cold pressing or distillation. They are so potent, and therefore only 1 drop could be needed at a time. For instance, 1 drop of peppermint essential oil can be equivalent to 40 cups of peppermint tea; and it takes 5000 pounds of rose petals to produce 1 pound of rose essential oil.
You may be wondering, "do essential oils clog pores?"
There are a few reasons why essential oils are non-comedogenic :
Only a little of it is needed at a time. When you are applying 1 drop of essential oil (diluted in a teaspoon of non-comedogenic carrier oil such as hemp oil), the chances of that 1 drop clogging your pores are next to nil.
The molecules in essential oils are extremely light weight and very small in size. This means they can sink right into your skin and be absorbed by the blood stream. They are not large enough to obstruct and clog pores.
Essential oils have antimicrobial, antiseptic and disinfectant properties which actually breakdown dirt, grime, dried sebaceous oil and fight harmful bacteria that contribute to clogged pores and acne.
What about citrus essential oils?
Most essential oils are extracted via a process called steam distillation. In steam distillation, the plant material is subjected to steam treatment, which causes the volatile oils contained within them to rise and get collected into a condenser. In the condenser, the aromatic vapors are cooled to transform them back into liquid state.
The only essential oils that have larger and denser molecules are those extracted by cold pressing such as citrus oils. Citrus oils are extracted by squeezing the rinds of lemons, lime, bergamot, oranges and other citrus fruits. As such, larger, heavier molecules are captured within the essential oil.
Since the molecules in citrus oils are larger, does this mean citrus essential oils can clog pores? The answer is actually, no. In fact citrus oils such as lemon oil, orange oil and bergamot oil are very useful for skin and can help treat acne and acne scars. The molecules in citrus oils are still not big enough to lodge themselves into pores and cause clogging.
Using Essential Oils for Acne prone Skin
Adding essential oils to facial oils for moisturizing or oil cleansing, is one of the best ways to amp up your skin care routine with unique and antioxidant-rich compounds that can keep your skin looking supple, radiant and youthful.
The best essential oils to add to your facial oils for skin care include:
For acne prone skin, make sure you only dilute these essential oils with carrier oils that have a comedogenic rating of less than 2. Some of the best carrier oils, with a comedogenic rating of zero, include: