The herb basil has been used traditionally for ages around the world for medicinal and culinary uses. One of the many extracts of basil is a hydrosol. It is a pure water naturally infused with the medicinal properties and aroma of the herb. Find out basil hydrosol benefits and how to use it in this article.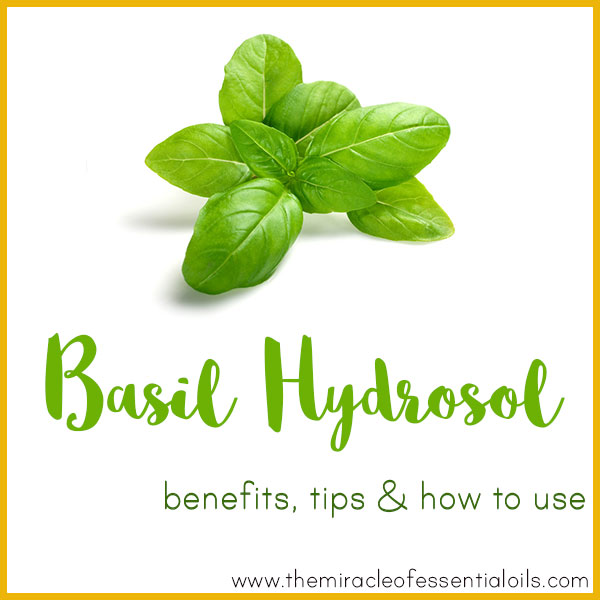 What is Basil Hydrosol?
Basil hydrosol is the by-product of steam distillation of basil essential oil. There are two types of basil namely: sweet basil (Ocimum basilicum) and holy basil (Ocimum sanctum) also called tulsi. Basil hydrosol can be obtained from these two essential oil extractions.
Benefits of Basil Hydrosol
1. Astringent
The astringent properties of basil make it an effective toner for oily skin. It also tightens tones and firms skin and shrinks large pores, giving skin a youthful appearance.
2. Antibacterial
Being antibacterial in nature, basil is good for fighting off bacteria that irritate skin, cause throat infections and lead to acne.
3. Bug Repellent
Basil is an herb that is excellent for repelling mosquitoes. You can spritz it on mosquitoes or around you to keep the mosquitoes away.
4. Analgesic
Basil hydrosol also has analgesic properties that make it a good pain relieving substance. You can spray it on your forehead and temples to stop a headache in its tracks!
5. Antiseptic
Got a scrape, cut or wound? Keep basil hydrosol at the ready! It's great to use it as a refreshing disinfectant that'll also relieve pain as seen above. You can also use it to disinfect psoriasis and eczema patches.
6. Antioxidant
The strong antioxidant properties of basil hydrosol are good for maintaining youthful skin. It also tightens and firms skin which helps prevent skin from going droopy too soon. Use it as a toner or facial mist for aging skin.
7. Invigorating Aroma
The fresh herbal scent of basil hydrosol is invigorating, cleansing, mind sharpening and mood uplifting. Enjoy spraying it around you to freshen your mind and body.
How to Use Basil Hydrosol
There are many ways to use a hydrosol but basil hydrosol in particular, works wonders for some specific ailments. In this section, we'll be listing down the most effective ways to use basil hydrosol using 3 recipes:
1. Throat Spray
Basil hydrosol can be used as a soothing, hydrating, antibacterial and pain relieving throat spray. Simply add a ¼ cup of basil hydrosol to this throat spray tube.
The sprayer goes into your mouth and reaches your throat, which enables you to spray the irritated area properly. Use whenever your throat gets dry, feels gritty and is itchy.
2. Antibacterial Spritz for Itchy Dry Acne
Many acne sufferers have acne that's itchy, dry and painful, especially those with cystic acid. My favorite way of relieving such acne is using a hydrosol stored in a spray bottle.
Add ½ cup of basil hydrosol onto a fine mist spray bottle. Spritz on acne as needed throughout the day.
3. Oily Skin Toner
Basil is an excellent oil-control ingredient. Basil hydrosol is even more effective in regulating excess sebum because it's water-based. You can make basil hydrosol a facial toner by placing it in an amber bottle with a cork.
After washing and drying your face, put some onto a cotton round and dab it on. Then apply moisturizer. If you want to make the toner stronger, consider adding about 1 tsp of organic apple cider vinegar or pure lemon juice. Store it in the refrigerator, if using these ingredients.
For More Ideas on How to Use Basil Hydrosol, Read: 21 Ways to Use Hydrosols 
Where to Buy Basil Hydrosol
You can find organic high quality basil hydrosol here.