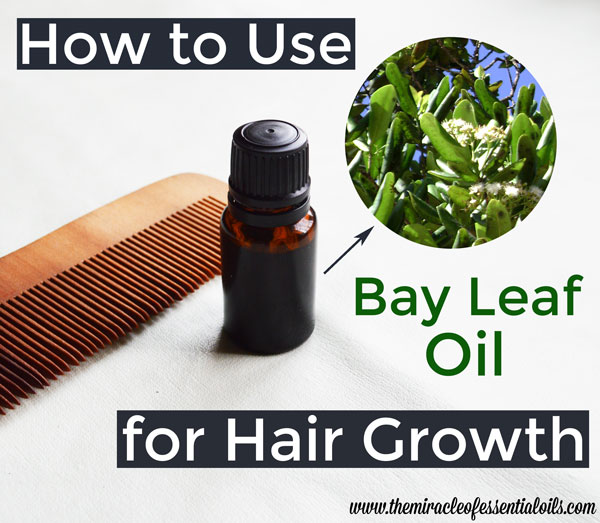 If you're familiar with cooking spicy dishes, you must know of a broad peppery smelling leaf known as bay leaf. It's popularly used in cooking to flavor soups & stews and give a spicy element to food.
There are many species of bay trees but the one whose essential oil is touted as a hair powerful hair growth booster is Pimenta racemosa, which is native to the West Indies.
For centuries, the Caribbean people used the leaves of the bay tree for cooking, medicine and to make tea and herbal infusions. When the first Europeans settled in the Caribbean, they caught on the amazing benefits of these pungent leaves and used them to make bay rum, a tincture created by steeping bay leaves in rum. This bay rum concoction was used as a muscle rub to alleviate soreness and also, as a hair wash!
Yes, bay leaves and its derivatives are actually potent hair growth aids for people with thinning hair problems or anyone looking to grow longer & thicker hair! Below, let's look at the properties of bay essential oil for hair growth:
Properties of Bay Essential Oil for Hair Growth
1. Stimulant – Being a spicy oil, bay essential oil is warming in nature and when applied to the scalp, it increases the blood circulation hence stimulating hair growth. The increased blood flow to the scalp ensures that each and every hair follicle receives the nourishment from the nutrient-rich blood, even the ones stuck in the dormant phase, thereby accelerating hair growth and fostering growth of new hairs.
2. Anti-Fungal – We all know that dandruff can lead to hair loss but did you know that the most common cause of dandruff is a fungus/yeast called Malassezia? It naturally lives on the scalp and skin without causing any problems but certain factors make it multiply at a rapid rate causing itchy and flaky dandruff. Bay essential oil has potent anti-fungal properties that make it good at controlling dandruff by fighting off Malassezia overgrowth. Bay oil also combats scalp fungal infections that are known to promote fast hair shedding.
3. Antiseptic – The antiseptic properties of bay oil make it effective against scalp irritating microbes that disrupt the healthy pH balance of the scalp hence leading to hair fall. These microbes also aggravate scalp fungal conditions and cause scalp inflammation, two major causes of hair loss.
Where to Get Pure Bay Oil

Always ensure to pruchase 100% pure and high quality bay oil for best results. You can find pure bay oil here. Remember to check for the botanical name on the bottle before purchasing. It should be Pimenta racemosa. Don't make a mistake of buying bay laurel oil which is Laurus nobilis.
How to Use Bay Oil for Hair Growth
Mixed in shampoo. One of the easiest ways of using bay essential oil for hair growth is to mix it in your shampoo. For a 16 fl. oz shampoo bottle, you can add about 30 drops of essential oil or in 1 tbsp of shampoo, mix 4 drops of essential oil.
Diluted in a carrier oil. When you dilute bay oil in a carrier oil like olive oil, coconut oil or almond oil, you can store it in a amber glass dropper bottle and use the oil blend as a hair mask, hot oil treatment, serum, leave-in conditioner, scalp massage and more. Use a dilution ratio of 2 drops in 1 tsp of oil.
Hair rinse. Mix 3-5 drops of bay oil in 1 tsp of aloe vera gel and add it to 1 cup of warm water. Use it as your final hair rinse after shampooing.
If you're looking for effective detailed recipes of how to use bay essential oil for hair growth, I've shared 3 below that you must try out!
Luscious Hair Recipes with Bay Oil
» Hair Growth Mask with Egg & Rosemary
What you need:
Directions
Add all ingredients to a blender and blend until well combined.
Now pour it into a bowl and apply over your kitchen or bathroom sink on dry hair.
Work it in for a minute or two then clip up your hair and cover it with a shower cap.
You can carry out other errands while waiting for the goodness of the mask to sink deep into your scalp.
After 10 minutes, wash your hair thoroughly with cold or tepid water NOT hot water as you don't want to cook up the eggs and end up with scrambled bits stuck to your strands.
Wash your hair with shampoo if using then wrap your hair in a towel.
» Thicker Tresses Hair Serum
What you need
Directions
Combine all the ingredients in an amber glass dropper bottle. Shake well to mix them all up. Use as a hair serum for thicker tresses!
» Overnight Oil Treatment for Thinning Edges
Cedarwood oil not only enhances hair growth but also promotes better sleep so it's a perfect addition to this overnight hair treatment!
What you need
Directions
Add the olive oil to a small pan and place the pan over a stove top.
Heat the oil over a very low flame until it gets warm enough to touch without hurting yourself. Do not boil as this will destroy nutrients.
Once warm, remove from heat and allow it to cool for a minute then stir in the essential oils with a spoon.
Now using the spoon, gently pour the warm oil all over your scalp until each area is saturated. You may now tie up and cover your hair with a cotton cloth, shower cap or plastic bag.
Leave the treatment to penetrate overnight and wash it off with a gentle sulfate-free shampoo the next morning. Remember to throw an old towel over your pillow to protect it from oil stains.
Safety Information
Before using bay essential oil, first check if you might be allergic by using a patch test: mix a drop of bay oil in 1 tsp olive oil and rub it on your inner elbow. Check for any signs of irritation within 1-2 hours. If there's no irritation, then bay oil is safe to use on your body. If not, wash your inner elbow with warm water and soap and steer clear of bay oil.
Bay oil is toxic when ingested. Do not ingest it.
Always dilute bay oil with a base oil or ingredient such as shampoo, coconut oil, olive oil, etc before using it.
Do not use bay essential oil in pregnancy & lactation.
Keep essential oils away from children and pets.
As bay oil is very potent, always dilute it well before use.
Avoid using bay oil if you suffer from hypertension, epilepsy, asthma and other chronic/severe health issues.