You might already know that rosemary was used by Ancient Greeks for improving memory and concentration – students hung it on doorways or made garlands to fill the air with its refreshing herbal scent that has memory boosting properties. But did you know that it was also used to enhance beauty and heal various skin problems? In this article, we shall explore 10 amazing benefits of rosemary essential oil for skin care!
10 Benefits of Rosemary Essential Oil for Skin Care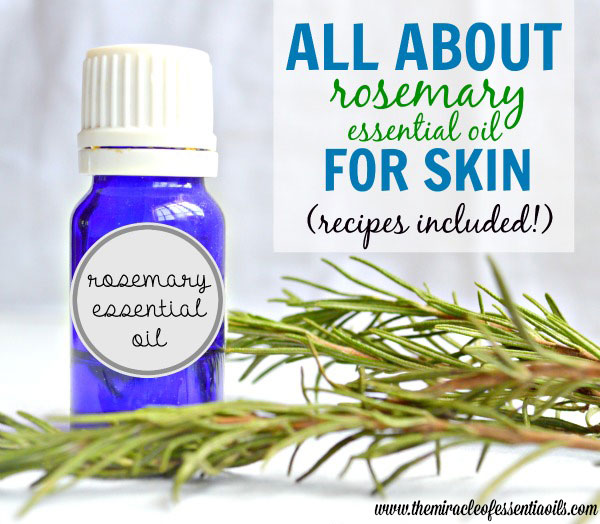 1. Acne Fighter
Rosemary essential oil has powerful antibacterial, antiseptic, anti-inflammatory and astringent properties that all work together to fight off acne and prevent more from showing up. Its antiseptic properties kill off acne causing germs and also make it a great solution for popped pimple wounds which can get re-infected by acne germs.
You can use rosemary essential oil for acne by applying it as an acne spot treatment: simply place a drop on a q-tip and dab this on your acne spots. If your skin is sensitive, mix up the rosemary oil with a non-comedogenic natural moisturizer such as shea butter then apply.
2. Unclogs Blocked Pores
Rosemary essential oil is a great essential oil for relieving congestion including skin congestion. It helps gently detox congested skin by purifying it from deep within the pores and driving out stale sebum, dead cells, dirt, grime, pollution, germs and other impurities. Its skin de-congesting properties make it an excellent essential oil for warding off blackheads and white heads (caused by dirt, excess oils and dead cells) that normally block pores.
Make a simple pore cleansing scrub by combining 1 tbsp of colloidal oatmeal, 1 tsp raw honey and 2 drops of rosemary oil. Scrub this mixture onto your face to clear out clogged pores!
3. Smooths Fine Lines & Prevents Wrinkles
No matter how you use rosemary – be it internally (rosemary tea) or externally (facial application), it actively fights pro aging free radicals that steal oxygen from healthy skin cells and cause a variety of health problems from cancer to premature fine lines and wrinkles. Rosemary essential oil's powerful antioxidant properties ward off free radicals that cause premature aging of skin.
Try this anti-aging night time facial serum for smoothing out wrinkles: 1 tbsp rosehip oil, 1 tsp vitamin E oil and 5-7 drops of rosemary essential oil. Massage just two drops of this on your face every night before bed.
4. Tightens & Tones Skin
Got sagging and droopy skin? Use rosemary essential oil, which has great astringent properties, to make your skin firm & taut.
In a 4 oz spray bottle, add 1/2 cup of distilled water, 1 tsp vegetable glycerine and 4-5 drops of rosemary essential oil. Shake it up well and spray on your face after cleansing and before moisturizing.
5. Minimizes Large Pores
Large pores suck. BIG time (no pun intended lol). Just yesterday I noticed how large the pores on my cheeks actually are in a bright lit bathroom mirror. Ugh. Good news is I got rosemary essential oil! It is a natural astringent and astringents are substances that can cause skin pores to contract and appear diminished. These properties also reduce oily skin since people with oily skin almost always have large pores.
You can use the same toner recipe above to tackle large pores and firm your face at the same time!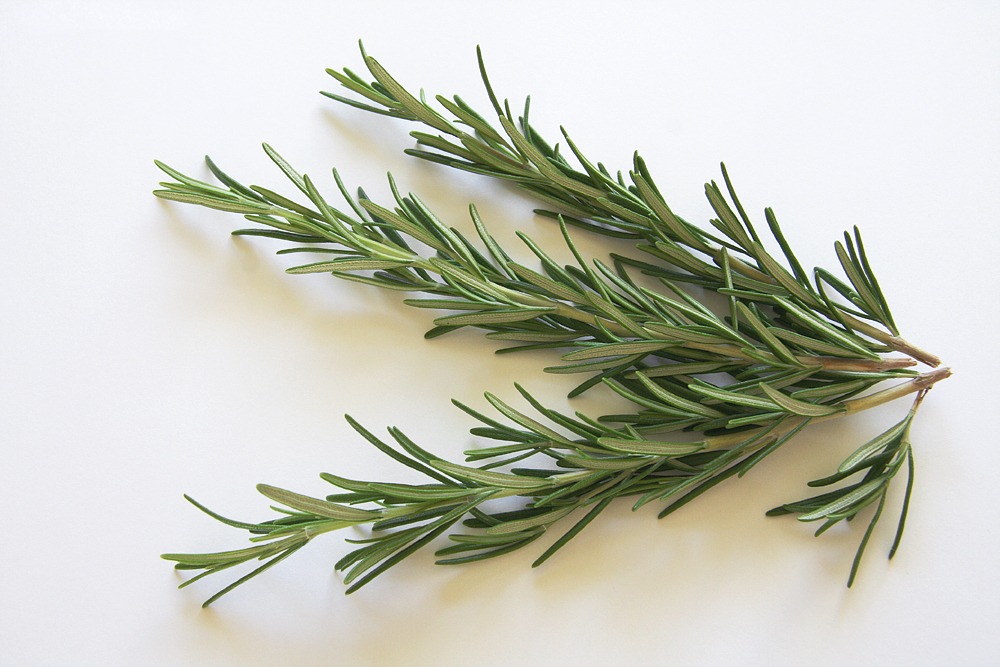 6. Reduces Excess Skin Oiliness
If you've ever applied rosemary or tea tree essential oil on your skin, you must have noticed how tight and dry your skin instantly becomes. This is because these two essential oils are powerful astringents that remove excess oiliness from skin.
7. Natural Deodorant
Rosemary essential oil has a strong refreshing herbal scent that not only sharpens memory but also neutralizes any bad body odors. This makes it a popular ingredient in soaps, perfumes and deodorants. Did you know that you can make your own rosemary deodorant? Here's how:
Melt 4 tbsp coconut oil in a pan over low heat. Then stir in 5 tbsp cornstarch and 1 tbsp baking soda. Once it turns into a thick well-combined mixture, remove from heat, let it cool for about 2 minutes then stir in 15-20 drops of rosemary essential oil. Pour mixture into a glass jar and let it harden in the refrigerator before use.
8. Gets Rid of Under Eye Bags
Rosemary essential oil eases congestion & fluid retention. It also acts as a diuretic that drives out excess fluid that causes swelling and puffiness. For more essential oils for under eye bags, go to this post.
A great under eye bad reducing recipe is mixing 2 drops of rosemary in 1 tsp of aloe vera gel. Apply this gently to your eye bags right after washing your face in the morning to reduce puffiness.
9. Clears Cellulite
Another amazing benefit of rosemary essential oil for skin is it helps clear cellulite! It is widely known as an excellent circulatory stimulant and it helps clear cellulite by stimulating flow of wastes and toxins, that can clump up and form cellulite.
Add a few drops of rosemary essential oil to your sugar scrub and scrub your cellulite away!
10. Heals Eczema & Other Inflammatory Skin Conditions
Rosemary essential oil helps heal and soothe eczema and other inflammatory skin conditions such as psoriasis, rosacea and rashes due to its powerful anti-inflammatory properties as well as its antibacterial properties that keep skin free from germs and other irritants that further aggravate eczema.
Combine rosemary oil in something soothing like shea butter or coconut oil and use it as a moisturizer for itchy and flaky eczema patches.
Where to Get Rosemary Essential Oil

When buying rosemary essential oil, make sure you're purchasing from a reputed essential oil seller. look for 100% pure therapeutic grade essential oil on the label. You can also buy one that's organic but that's just a bonus you can do without. Buy this 100% pure rosemary essential oil 10 ml bottle from Amazon – remember, a little goes a long way so use it in tiny amounts for beautiful skin!