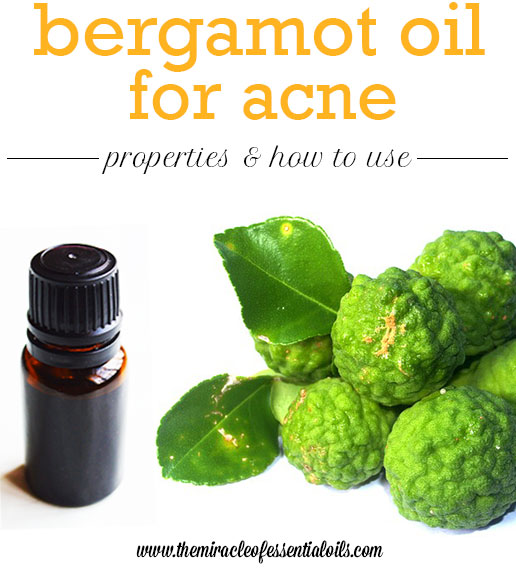 A fresh citrus oil with an uplifting scent, bergamot is a delightful essential oil to have around. It is extracted through cold pressing of nearly ripe bergamot oranges (Citrus bergamia). What exactly is a bergamot orange? You probably haven't heard of it before but it's actually a result of cross-breeding of the lemon tree and orange tree! Bergamot oranges are about the size of oranges but look almost like pears and have a yellowy green color.
Bergamot oil is widely used in skin care because of its skin brightening properties and in the perfume industry for its special scent that's a mix of fruity orange and fresh lemon. Bergamot also has great anti-acne properties! Let's take a look at some of the benefits of bergamot oil for acne in particular:
Why Bergamot Oil is Great for Acne
✓ Antiseptic Properties – Research (1) shows that bergamot oil has potent antiseptic properties which make it good for fighting off acne-causing germs thereby reducing existing acne and preventing further breakouts.
✓ Anti-Inflammatory Properties – Bergamot also has strong anti-inflammatory properties, proved by research (1). Anti-inflammatory substances are very important in reducing acne inflammation, which plays a big role in making acne appear red and big in size.
✓ Natural Cleanser – Citrus oils – bergamot included, generally have natural cleansing action designed to drive out excess oils, dirt and pollution from deep within the pores. They also exfoliate dead cells due to their alpha hydroxyl acid content and keep skin looking flawless. You can add a few drops of bergamot to your facial cleanser or even better, scroll down to the recipes below to see how you can formulate your own anti-acne face wash!
✓ Balances Oily Skin – If you place just a drop of bergamot oil on your index finger and rub it together with your thumb, you'll notice how dry and tight the skin becomes. This is because of bergamot's astringent effects. An astringent is a substance that cleans skin from excess oils and shrinks pores. This effect not only helps balance out oily skin but also minimizes the large pores many with acne suffer from, reducing the amount of oils secreted onto the skin in the first place.
✓ Reduces Painful Acne – Bergamot oil also has significant analgesic (pain relieving) qualities to it, making it beneficial in reducing the pain associated with acne, especially deep rooted pimples and angry red cysts! Add a few drops to your face cream or find an easy acne cream recipe below.
✓ Anti-Scarring – With its anti-scarring abilities, bergamot is excellent in preventing acne scars while combating acne and fading existing acne scars. Its anti-scarring action comes from its cicatrisant properties that promote cell and tissue regeneration thereby healing scars at a very fast rate.
✓ Uplifting Scent – Having acne can make anyone miserable. If you're feeling depressed and sad all the time because of your acne, try boosting your mood by breathing in the scent of bergamot, which is a fresh and citrusy one with a hint of tartness. This uplifting scent works through the power of aroma therapy to release endorphins or happy hormones that will noticeably lift your spirits!
How to Use Bergamot Oil in Your Acne Skin Care Regime
» Anti-Acne Face Wash
Note: Use this face wash whenever you wash your face and this should be twice a day maximum for acneic skin. Do not worry about it being phototoxic because of the bergamot since it's a 'wash off' product which won't remain on your skin.
What you need
Directions
Add the distilled water then slowly pour in the liquid castile soap in a bowl.
Stir in the essential oils.
Transfer your super easy yet all-natural powerful anti-acne face wash into a foaming soap dispenser using a funnel.
Pump a little on your palm and use the foam to cleanse your face. Avoid getting it into your eyes, like any other face wash.
» Bergamot Spot Treatment
Note: If you have sensitive skin or easily irritated acne, do not use this spot treatment as it can further aggravate acne.
What you need
Directions
Place a drop of bergamot oil on a clean q-tip and gently dab it on your acne or pimples as a spot treatment.
» Citrus Acne Cream
What you need
Directions
In the glass jar, place 2 tbsp shea butter then start mixing and mashing it with a spoon to break it down into a silky cream.
Then add the drops of bergamot and mix again till everything is well combined.
That's it! Use a teeny tiny amount to moisturize your whole face after cleansing it.
» Breathe in Bergamot
Uplift your spirits and get ready to take on life with renewed energy by diffusing this beautiful citrus mood boosting blend!
What you need
Directions
Add the oils to your diffuser, following the manufacturer's instructions.
Safety when Using Bergamot Oil
Before using essential oils, always use a patch test first. You can do this by applying a mix of 1 drop bergamot oil and 1 tsp vegetable oil (like olive oil) on your inner elbow. Monitor the area for about 1-2 hours. Any signs of skin irritation means you might be allergic to bergamot so do not use it on your skin.
Citrus oils such as bergamot are said to be photo toxic and can cause hyperpigmentation if the area of skin it's applied to is exposed to sun light. Therefore, please avoid using bergamot at day time. You can safely use it at night time, which is even better as this is the time the skin repairs and regenerates itself to reveal beautiful new skin underneath!
Avoid essential oils during pregnancy or lactation.
Always use 100% pure high quality therapeutic grade essential oils and dilute them with a carrier oil like sunflower oil (good for acne-prone skin) or base ingredient such as your facial cleanser, body wash, aloe vera gel, etc.
Keep essential oils away from children and pets.
References
(1) https://www.ncbi.nlm.nih.gov/pmc/articles/PMC4345801/