The best kept secret that no one knows when it comes to long, thick and luscious hair? Shhhh…it's essential oils! Here are the only 10 essential oils for hair growth that you'll ever need for fabulous hair.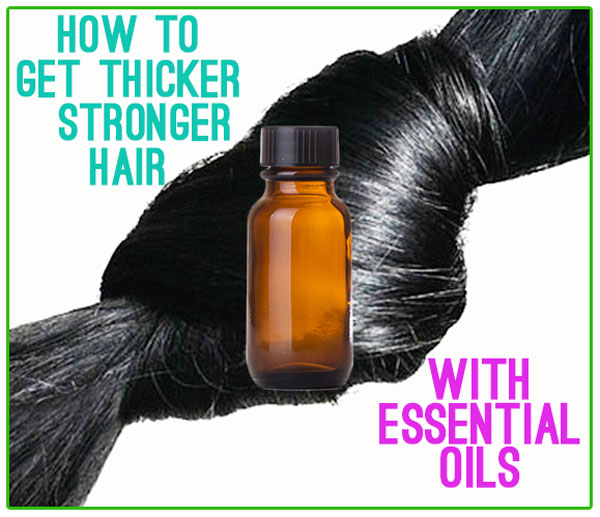 1. Rosemary Essential Oil
If you could choose just one essential oil to boost your hair growth and thickness, rosemary (where to get it) should be the one! It is extremely effective in preventing hair loss and re-growing bald patches by strengthening the hair follicles and stimulating blood circulation in the scalp.
Read more: Rosemary Oil for Hair Loss
2. Lavender Essential Oil
The most versatile essential oil on the planet, lavender essential oil (where to get it) is another one of the best essential oils that stimulate hair growth. It increases blood circulation to the hair follicles, thus providing them with essential nutrients to grow strong long and healthy hair.
3. Cedarwood Essential Oil
Used by both the Ancient Egyptians and Native Americans for purification as well as medicinal and cosmetic purposes, cedarwood essential oil (where to get it) is actually a proven oil for stimulating hair growth, preventing hair loss and fighting dandruff and itchy scalp issues. Take a look at this article for the studies and research involving cedarwood and hair loss.
Read more: Cedarwood Essential Oil for Hair Loss
4. Thyme Essential Oil
Commonly known as red thyme, thyme is an herb that has been used since ancient times by the Greeks, Egyptians and Romans. The key constituents of thyme essential oil (where to get it): thymol and carvacol are powerful fungicides and bactericides that fight off microbes responsible for dandruff, scalp irritation and inflammation, all of which inhibit hair growth.
5. Basil Essential Oil
Sweet basil essential oil is a powerful stimulant which helps improve blood circulation in the scalp, thereby encouraging thick and luscious hair growth. It's medicinal herb qualities also ward off irritating scalp conditions like dandruff and fungal infections that disrupt hair growth and reduce the thickness of hair.
6. Geranium Essential Oil
Geranium essential oil (where to get it) nourishes, strengthens, protects and moisturizes hair follicles thereby preventing hair loss through weakened follicles. It also gives hair a natural shine and helps repair damaged hair.
7. Ylang Ylang Essential Oil
Extracted from the fragrant and fresh white ylang ylang flowers, ylang ylang essential oil (where to get it) is native to East Asia. By balancing excess sebum production in the scalp and improving proper blood circulation in the scalp, it helps prevent hair loss as well as stimulate hair growth.
8. Peppermint Essential Oil
One of the main constituents of peppermint essential oil (where to get it) is menthol, which has cooling and soothing effects on the scalp. This effect helps stimulate the hair follicles and promote hair growth. It is also particularly good for soothing inflammatory skin conditions and itchy scalp issues on the scalp since menthol helps numb the pain and reduce itchiness.
9. Clary Sage Essential Oil
Besides solving menstrual troubles and clearing congested skin complexions, clary sage essential oil (where to get it) also stimulates hair growth. Its antibacterial and antiseptic properties fight off germs and microbes that irritate & infect the scalp as well as cause hair loss. It also has astringent properties that drive out stale oils, grime & other impurities that clog pores and slow hair growth.
10. Cypress Essential Oil
This refreshing essential oil (where to get it) is well known for improving circulation, fading varicose veins, sorting out female problems, treating coughs and respiratory issues as well as relieving excess fluids. It stimulates blood circulation to the hair follicles, thereby awakening sleeping hair follicles and boosting hair growth.
Recipes – How to Use Essential Oils for Hair Growth and Thickness
Below are a few valuable recipes that if used regularly as part of your hair care routine, will really make a difference in promoting quick hair growth and thick luscious hair.
1. Rosemary Hair Thickener
What you need
Directions
In a 4 oz amber glass jar the above essential oils and coconut oil.
Massage just a little of this blend every day on your scalp (can be done before showering) to stimulate hair growth.
It's not necessary to wash your hair after using this blend, provided you don't add a lot that will make your hair look greasy. It can be used before combing and styling your hair.
2. Hair Growth Serum
What you need
Method
Combine all oils in the dropper bottle and shake well to mix them up.
To apply, place a few drops using the dropper all over your scalp then vigorously massage using your finger pads – don't scratch with your fingers.
There's no need to wash it off, just style your hair as usual. Or apply it an hour before showering.
3. Overnight Oil Treatment
What you need
Method
Whip up the above two oils in a small bowl and apply it on your scalp systematically with the applicator brush until every area is saturated. It's not necessary to put the oil on your strands for hair growth but if you want lustrous looking hair, then go ahead! 😉
Now wrap your hair up in a towel and go to bed. The towel traps heat that opens up the hair follicles, allowing the hair growth boosting oils to penetrate deep. It also protects your pillow from oil stains so make sure your wrap the towel very well so no lock of hair remains out.
The next morning, wash your hair as usual but first apply the shampoo to dry hair, which will help remove the oils easier.
4. Protein Hair Growth Mask
What you need
Method
Blitz the above ingredients in a small blender then pour the frothy mixture into a bowl.
Section your hair if it's long then using an applicator brush (like the one found in do-it-yourself hair dye packages), apply the hair mask on your scalp systematically so you cover all areas.
Also apply on your hair strands.
Now cover your hair with a disposable shower cap and let the goodness sink in for about 5 – 7 minutes. Don't keep it any longer because you don't want it to dry up on your scalp.
When the time is up, wash your hair thoroughly with COLD water. Don't use hot water because it will cook the eggs and leave tiny scrambled egg bits attached to your hair.
You may use enough shampoo to get every bit of the mask completely off. Try to use an organic shampoo like this one.
Have you tried essential oils for hair growth? How long did it take for you to see results? Please share with us in the comments below!