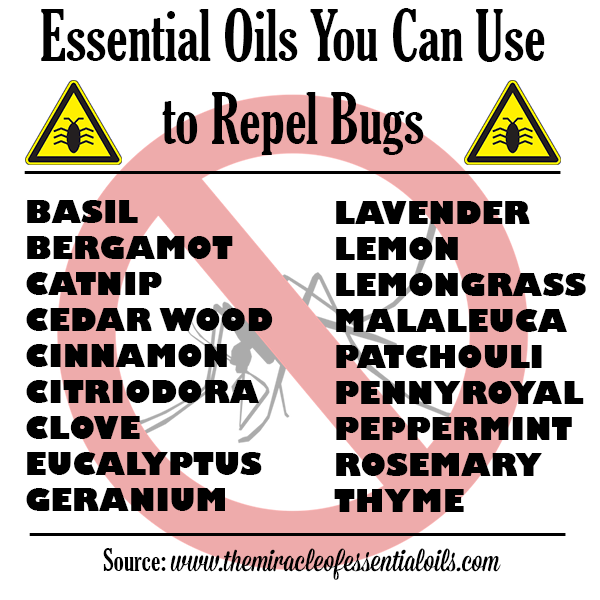 Why resort to toxin-laden commercial bug repellents when you can make your own long lasting, effective bug spray using the best bug repellent essential oils?
Reasons to Use Essential Oils to Deter Bugs
There are many natural remedies that have been used for centuries to keep bugs away from babies, food, clothes and our skin. Today, we have access to a variety of powerful essential oils that work effectively to keep off bugs from our lives. Essential oils could arguably the best natural remedy for repelling all sorts of bugs including:
Mosquitoes
Moths
Water bugs
Cockroaches
Ticks
Fleas
Ants
Gnats and other flies
By using natural remedies like essential oils, instead of resorting to conventional bug repellent products, we can:
✓ Save money in the long run
✓  Avoid toxic chemicals
✓  Keep our families safe from unwanted chemical exposure
✓  Reduce environmental pollution
Essential Oils Have Potent Bug Repelling Properties
Essential oils, when used in specially formulated recipes, seem to have equal bug repelling activity as compared to commercial bug deterrents.
A study carried out by London School of Hygiene and Tropical Medicine in 2011 on the efficacy of plant-based insect repellents showed that products containing peppermint, lemongrass, geraniol, pine oil, pennyroyal, cedar oil, thyme oil and patchouli essential oils, among others, were effective against a wide variety of insects.
Top 10 Bug Repellent Essential Oils
Rich in menthol, peppermint oil has a strong minty aroma and taste. It is often used to relieve headaches and nausea and is used to increase physical and mental stamina. Peppermint is my personal favorite for keeping the pests away as its minty smell is so refreshing to us, yet bugs and critters hate it!
Works on: flies, bees, gnats, ticks, mosquitoes, ants
Arguably the most popular oil in aromatherapy, lavender essential oil is best known for its relaxing, calming and sleep-promoting qualities. It's also used in skin care products and bath salts. But this floral-scented oil is also highly effective in repelling tiny bugs. You can use lavender in your closets, cupboards and drawers to repel moths and other bugs while leaving your clothes and other items smelling fresh and clean.
Works on: ants, bed bugs, fleas, moths, mosquitoes
Lemon essential oil, like many citrus oils (such as bergamot) has been found to have bug repelling properties. Many bugs including cockroaches and water bugs react negatively to citrus scents and stay away from the area where citrus scents are used. With its mood-lifting and jovial scent, lemon oil can be used in insect sprays, and should be avoided for topical application if going out under the sun as it is phototoxic.
Works on: mosquitoes
Also known as tea tree, melaleuca oil is native to Australia, where it was used by the Aboriginals since ancient times to treat wounds and deter bugs. Tea tree is antibacterial, antimicrobial and antiparasitic so it has compounds that can actively weaken and kill parasites such as leeches, ticks, fleas and lice that tend to stick to the body and suck blood out, especially when you're out camping.
Works on: bed bugs, flies, gnats, ticks, fleas, leeches, lice
Rosemary is not just a favorite Italian seasoning, this delicious herb is also a potent natural pesticide that repels unwanted insects. The rosemary bush, when grown in vegetable patches, can repel common pests such as bean beetles, carrot flies, cabbage loopers and slugs/snails. When used in topical creams and homemade bug sprays, it can help fend off blood-sucking mosquitoes and other bothersome flies.
Works on: some garden pests like slugs and snails, mosquitoes, flies, gnats
Aside from being scientifically proven to fight against annoying mosquitoes, thyme has also been studied to be effective against the common housefly. This powerful essential oil is uniquely rich in thymol and other compounds such as thujone, linalool and pinene, which are all potent against bugs. Thyme oil can help you enjoy a peaceful picnic, without nasty flies trying to land on your food while bothersome mosquitoes try to feast on your blood. Thyme is definitely a must-have for outdoor lovers!
Works on: mosquitoes, ticks, houseflies, bed bugs
Cedarwood essential oil is actually popularly used in conventional insect repellant products (although they might be using a synthetic fragrance rather than the pure essential oil). Clean, crisp and woody, the scent of cedar wood is a natural bug restrictor and can be used safely in homemade creams and lotions to keep bugs off your skin. It will also leave you smelling fresh and arboreal!
Works on: mosquitoes, ticks
Cinnamon, a warm and festive scent that many associate with the festive holiday spirit, can do wonders to repel pesky pests and flying bugs. Rich in eugenol, a compound that gives many essential oils their strong minty/herby scent, has many benefits such as inflammation-fighting, pain-killing values, as well as insect repelling properties.
Works on: mosquitoes
The mighty eucalyptus tree has long been revered for its medicinal properties. The eucalyptus tree is rarely affected by insects and pests, due to its aromatic insecticide qualities. Eucalyptus oil, extracted by steam distillation of eucalyptus leaves is rich in eugenol, a compound that is analgesic, antiseptic and anti-inflammatory. Eucalyptus oil's strong minty, herbaceous and camphorous smell is very effective at deterring a wide range of bugs. Its pain-relieving properties make eucalyptus oil very useful in treating all sorts of bug bites, as well.
Works on: mosquitoes, sandfly, lutzomyia, flies and gnats
Citriodora, also known as lemon eucalyptus, is a plant species related to the eucalyptus tree. Its aroma is strong and can be described as a cross between lemon and eucalyptus, hence its name. Citriodora is most popularly used against mosquitoes. Citriodora is being extensively studied in African countries, which lie in the tropical region and are infested with disease-carrying mosquitoes. It can be used both topically and in insect sprays.
Works on: mosquitoes
Like eucalyptus, clove oil is rich in the natural compound called eugenol which gives the oil its characteristic strong, slightly minty and camphor-like aroma. Clove can also be applied topically on bug bites to drastically reduce redness, inflammation, itchiness and pain.
Works on: bed bugs, mosquitoes
Rich in a unique compound known as geraniol, geranium essential oil is a potent oil with many health benefits serving a range of health conditions and ailments. It really is a wonder that the floral, rosy, slightly peppery-scented oil is highly effective against not just mosquitos, but also other types of flies. This is thanks to its composition containing compounds such as limonene, cintronellol and alpha-pinene, which are what make lemon, lemongrass and cedar wood effective bug repellents, as well.
Works on: flies, gnats, ticks, mosquitoes
Other Essential Oils with Bug Repelling Properties