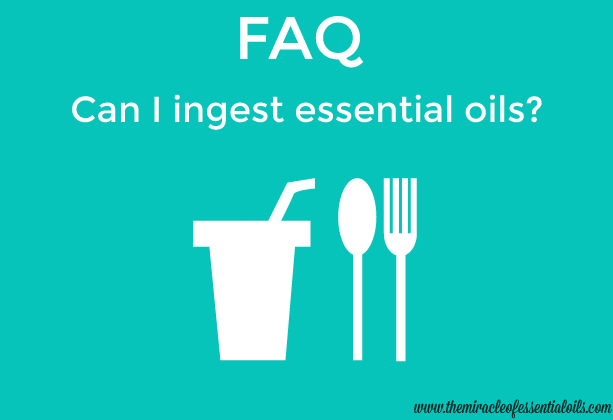 First of all, I applaud you for asking this question, 'can I ingest essential oils?' instead of just blindly consuming them based on some lay person's advice (and there are plenty of those around these days). At least you're doing your research and that shows that you have taken personal responsibility for your health and the health of your loved ones.
Generally speaking, essential oils should NOT be ingested. Ingesting them can do more harm than good. However, there are special exceptions where you CAN ingest essential oils, as we will look at below.
When to Ingest Essential Oils
You can ingest specially formulated products containing a few essential oils, from trusted companies, which are meant for ingestion.
If you are seeing a naturopathic doctor for a particular illness and they recommend you take an essential oil as part of their treatment plan, you can do so, under their careful monitoring.
You can take essential oils under the care of your certified aromatherapist.
If you are perfectly healthy, and there is no need for you to take essential oils (or if you can take other natural supplements/remedies to achieve your goal), then it is better that you avoid unnecessarily taking essential oils.
Why You Should Restrict the Consumption of Essential Oils
1. Long Term Damage
No research has yet been carried out on the long term side effects of internally consuming essential oils. Consuming essential oils increases the risk of long term damage to the digestive organs and detoxification organs.
We cannot stress enough how highly concentrated essential oils are. One drop of lemon essential oil, for example, is equivalent to consuming the rind of 40 lemons. Would you eat 40 lemon rinds in one sitting?
Eating such a concentrated substance in one sitting puts an inevitable tax on your digestive organs, and also your detoxification organs such as the liver and kidney. The overwork that your organs will have to do in order to properly process and eliminate an essential oil can create organ exhaustion and damage in the long term that only time can reveal.
Stay on the safe side and restrict essential oil consumption, and when you do decide to ingest essential oils, only do so in the right manner under the supervision of a certified aromatherapist or naturopath.
2. Concern for the Environment
Another important point that we cannot ignore in today's is the impact that large scale consumption of essential oils has on the environment. As mentioned previously, to obtain just a few drops of essential oil, so many kilograms of plant material have to be crushed.
For example some essential oils used in aromatherapy that are labelled safe for oral consumption by the FDA such as Frankincense (in particular Boswellia carteri) is actually a species that has been listed in the IUCN List of Threatened Species. It is only ethical that we restrict the consumption of essential oils to reduce the destruction of our environment and biodiversity.
Essential Oils that Are Safe for Ingestion
Essential oils that are safe for oral consumption have been tested and recognized by the FDA under the label GRAS (Generally Recognized As Safe). Some of these include:
Basil
Bergamot
Clove
Dill
Eucalyptus
Frankincense
Ginger
Lemon
Oregano
Peppermint
Orange
Essential Oils that Must Not Be Consumed
Bitter almond
Birch
Blue cypress
Bog Myrtle
Fig leaf
Tea tree
Worm Seed
Wintergreen
Tonka bean
Cassia
Camphor
Mugwort
Mustard
Penny Royal
This is not a comprehensive list of all inedible essential oils. If you are doubtful about the consumption of a certain essential oil that is not on this list, then stay on the safe side and do not consume that oil. You can also consult your aromatherapist for advice on that particular essential oil.
Final Words
As much as some essential oils are food-grade and can be ingested, the general rule is to stay on the safe side and not consume essential oils without proper supervision by a licensed professional trained in this area.
Better safe than sorry – after all the only cases of death reported in the history of aromatherapy occurred with the ingestion of essential oils!