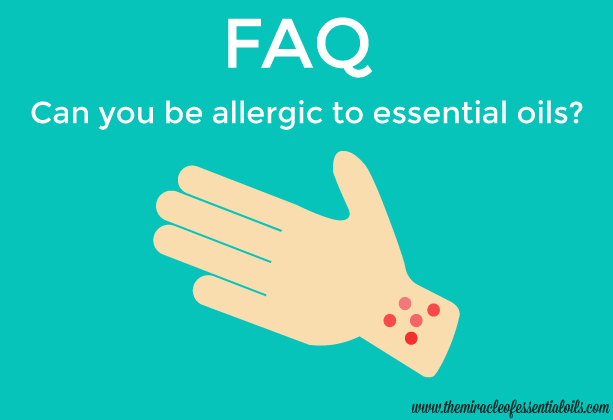 What is an Allergy?
First things first, what exactly is an allergy? An allergy refers to the immune system's response to the presence of a foreign substance in the human body. The most allergens include pollen, dust mite found in houses and certain foods such as milk. Some common symptoms of allergy include:
Redness and rash such as hives
Sneezing
Runny nose
Wheezing and asthma
Cough
Abdominal distress/pain
Nausea
Vomiting
Loose motions
Low blood pressure
In most severe cases, anaphylaxis (a life-threatening condition)
Contradicting Views on Essential Oil Allergy
As with many issues concerning essential oils, such as drinking essential oils in water (link), there are contradicting views when it comes to being allergic to essential oils. Here are some of the views:
"You can't be allergic to essential oils because they do not contain allergens!"
Many people are fronting the idea that you simply cannot be allergic to essential oils and that such a thing as an allergy to essential oils does not exist. They proclaim that essential oils do not contain proteins, therefore it is impossible to be allergic to them. Could this view be the truth? Let's take a deeper look. An allergenic substance is defined as one which contains proteins (amino acids) and polypeptides. Essential oils, being extracted through the process of distillation, only contain extremely small molecules, while proteins and polypeptides are much larger molecules that trigger allergenic reactions. This explains why a person can be allergic to the raw plant material such as fresh ginger, but not allergic to the essential oil of the same plant material (such as ginger essential oil). Therefore, due to the absence of these large protein and peptide molecules, some groups claim that you cannot be allergic to essential oils.
However, some substances such as nickel (found in cheap jewelry such as earrings and rings) and medications like antibiotics, do NOT contain proteins and polypeptides yet they cause allergic reactions in some people.
"You are just detoxing!"
The same group that assert that essential oils cannot cause allergic reactions explain that if you are facing any allergy-like symptoms such as rash, redness and itchiness, then you are simply detoxing. They say that essential oils are healing, medicinal and therapeutic substances and any adverse effects are a sign of the body cleansing and detoxifying itself.
The difference between an allergic reaction and detoxing is that an allergic reaction continues or gets worse with continued exposure to the possible allergen, while in detoxification, the adverse reactions typically wear out with time. Apart from this time test, there is no other way to find out if you are having an allergic reaction or if you are just detoxing.
"Yes, you can be allergic to essential oils!"
The final view is that you CAN be allergic to essential oils, under the following circumstances;
If the essential oil is impure or cut with different synthetic substitutes or petrochemical products. In this case, a person may be reacting to the foreign substances in the adulterated essential oil.
If you are using too high of a dose. Applying essential oils without properly diluting them is the most common way of inviting possible allergenic reactions.
If you are using oils not extracted through steam distillation such as citrus oils and absolutes, which are extracted through cold compression. Without the process of distillation, the fatty molecules within the essential oils are much larger than the molecules in the distilled oils and can cause possible allergic effects.
If you are using an oxidized (or expired) essential oil. Oxidation happens when the essential oil comes into contact with surrounding air. It is inevitable that oils will oxidize as time passes but if you left an oil bottle open for a long time, chances are that it has oxidized and it is unwise to use it on the skin. Signs of oxidation include change in color, loss of original aroma and loss of freshness (the oil will become stale).
How to Avoid Allergic Reactions to Essential Oils
Only use 100% pure, unadulterated essential oils from trusted sources
Do not keep essential oils for too long. The recommended shelf life for most oils is 2 years
If you note any signs of oxidation in your oil, discard it
Always properly dilute essential oils before use
Be careful when using essential oils that are most likely to cause allergies, especially if you have sensitive skin (read more below)
Always do a patch test before using essential oils for the first time
How to do a Patch Test
Performing a patch test before the use of any new oil is the simplest way to find out if you have an allergy or sensitivity to an essential oil. It's simple to do a patch test, as follows:
Begin by properly diluting the essential oil (2 drop of essential oil in 1 tsp of carrier oil which is the recommended dilution for adults). Read more: How to Dilute Essential Oils
Now apply this diluted oil mixture onto your inner wrist, where the skin is particularly sensitive.
Wait for some time (up to 6 hours) to notice any adverse reactions such as rashes or itching.
If you notice any negative effects, you can choose to further dilute the oil before application, or discard usage completely.
Read more: How to Perform a Patch Test
List of Potentially Allergenic Essential Oils
Some essential oils are more likely to cause allergic reactions that others, due to various reasons such as extraction via methods other than distillation and the presence of phenols (compounds found in oils that can trigger true allergic reactions). Some of these oils include:
Clove
Fennel
Basil
Cypress
Clary Sage
Cassia