One of the oldest traditional herbs used in the world is chamomile flowers. From these sweet swelling flowers, a floral water called chamomile hydrosol is extracted. In this post, we shall discover chamomile hydrosol benefits, tips and how to use.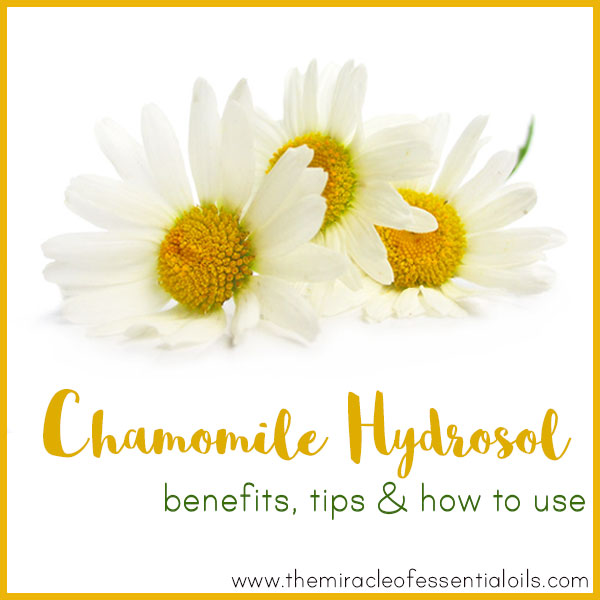 What is Chamomile Hydrosol?
Fresh chamomile flowers are used to produce many extracts including essential oil and hydrosol. There are two types of chamomile from which the hydrosol is obtained. These include German chamomile (Matricaria Chamomilla) and Roman chamomile (Anthemis nobilis). They both have similar properties.
Let's explore the top chamomile hydrosol benefits below:
Benefits of Chamomile Hydrosol
1. Sedative
Chamomile has long been known as a calming agent. That's because it has sedative properties which promote tranquility, soothe a tired mind and induce deep sleep.
2. Antihistamine
With its natural antihistamine compounds, chamomile hydrosol is immensely beneficial for inflammatory skin conditions, allergies, bug bites, skin swellings and poison ivy.
3. Good for Sensitive Skin
Sensitive skin types can be easily irritated with many skin care products. But hydrosols like chamomile can be used to soothe skin and reduce irritation.
4. Anti-Inflammatory
Chamomile is a powerful anti-inflammatory substance. It reduces inflammation, minimizes redness and decreases swelling. You can use it for acne inflammation, eczema, psoriasis, rashes and more.
5. Antibacterial
The antibacterial properties of chamomile hydrosol make it an effective bacteria-fighter. It can be used to disinfect wounds, relieve itchy skin and
6. For Baby Care
Chamomile oil is one of the most popularly used essential oils for babies but chamomile hydrosol is even better. It's very gentle and safe to use for soothing a crying baby by using it as a room spray. It can also be added to a baby's bath.
How to Use Chamomile Hydrosol
» Diffusing
In your baby's nursery, kids' room or for your pets, you can safely use chamomile hydrosol in a non-plastic essential oils diffuser! Simply add about 70 – 200 ml of chamomile hydrosol in the diffuser, according to the manufacturer's instructions. If you're very sensitive to scents  and can't diffuse essential oils without experiencing some kind of irritation, then chamomile hydrosol can be diffused!
»  Calming Room Spray
Spritz chamomile hydrosol all over your room to dispel negativity, reduce tension and calm an irritated child. Make sure not to get the mist on the baby's face or body.
»  Sensitive Skin Cleanser
Make your own sensitive skin cleanser by combining ¼ cup liquid castile soap, ½ cup chamomile hydrosol and 1 tbsp vegetable glycerin in a Pyrex measuring cup. Now gently pour this mixture into 4 oz foaming soap dispensers. Your sensitive skin cleanser is ready!
»  Blond Hair Rinse
Instead of chamomile tea, you can use chamomile hydrosol as a more fragrant hair rinse. Just add ½ cup of chamomile hydrosol and ¼ cup of water in a Pyrex measuring cup. Now use this as your final hair rinse after a shower. You can do this hair rinse for blonde hair to sharpen highlights before a major event.
»  Baby Bath Water
To your baby's bath basin, add about 1/2 cup of chamomile hydrosol. Make sure the bath is warm enough and the chamomile hydrosol doesn't alter the temperature of the water.
For More Ideas on How to Use Chamomile Hydrosol, Read: 21 Ways to Use Hydrosols 
Where to Buy Chamomile Hydrosol
Make sure to buy 100% pure high quality and most importantly ORGANIC chamomile hydrosol. You can purchase it here.