The exotic cistus flower grows in Spain, Portugal, France, Greece, Algeria, and Morocco. Find out 6 cistus hydrosol benefits and how to use it on this page!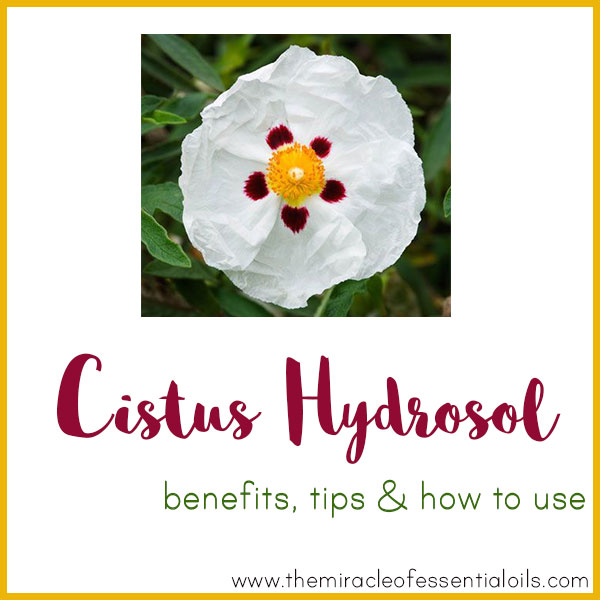 What is Cistus Hydrosol?
Also known as rock rose, the cistus flower has two main extracts: an essential oil and hydrosol. Cistus hydrosol has a scent that's a lot like cistus essential oil: only lighter.
Some may not really fancy the warm, herbaceous and slightly sweet and resinous aroma but this hydrosol really has amazing benefits for beauty, health and wellness.
Benefits of Cistus Hydrosol
Below are some of the benefits of cistus hydrosol:
1. Astringent
A good astringent, cistus hydrosol is an effective skin toning ingredient. Use it right after cleansing your face to firm skin, decrease large pores and prevent excess oiliness.
2. Styptic
Cistus hydrosol has styptic properties that stop bleeding and promote clotting of blood. It can be used as a facial toner for men right after shaving to soothe skin and heal any nicks of cuts by the sharp blade. Also use it for cuts, nose bleeds and wounds.
3. Cicatrizant
Cicatrizant means promoting cell regeneration. The cicatrizant properties of cistus hydrosol fade away acne scars, stretchmarks and other types of scars.
4. Hydrating
This refreshing hydrosol is known to hydrate skin by plumping up skin cells. It keeps skin looking moisturized and healthy.
5. Anti-aging
Cistus hydrosol also has anti-aging properties that help erase fine lines and smoothen skin. Mix a little cistus hydrosol in your facial cream to benefit from its amazing anti-wrinkle effects.
6. Antiviral
Its antiviral properties are good for treating eye infections, cold sores and flu. Use it as an eye wash, for steam inhalation or dab it on the cold sore.
How to Use Cistus Hydrosol
» Nose Bleed First Aid
Soak a cotton ball with cistus hydrosol and gently insert it in the nostril. Don't push it deep inside but just at the entrance.
» Wound Disinfectant Spray
In an amber glass spray bottle, combine ¼ cup of cistus hydrosol, ¼ cup of helihchrysum hydrosol and ¼ cup of tea tree hydrosol. Spray onto the cut or wound as many times to clean and disinfect it. Then dress the wound.
» After Shave Toner
In an amber bottle, combine ¼ cup cistus hydrosol, ¼ cup witch hazel hydrosol and 2 tsp of aloe vera gel. Shake well to mix. Use a cotton ball to dab this toner on your face after shaving. Or, combine the ingredients in a fine mist spray bottle and mist on face and neck after shaving.
For More Ideas on How to Use Cistus Hydrosol, Read: 25 Ways to Use Hydrosols 
Where to Buy Cistus Hydrosol
Only purchase 100% pure organic cistus hydrosol. You can get it here.