An amazing hydrosol, clary sage has many benefits especially for feminine problems. Learn 7 clary sage hydrosol benefits and how to use it here!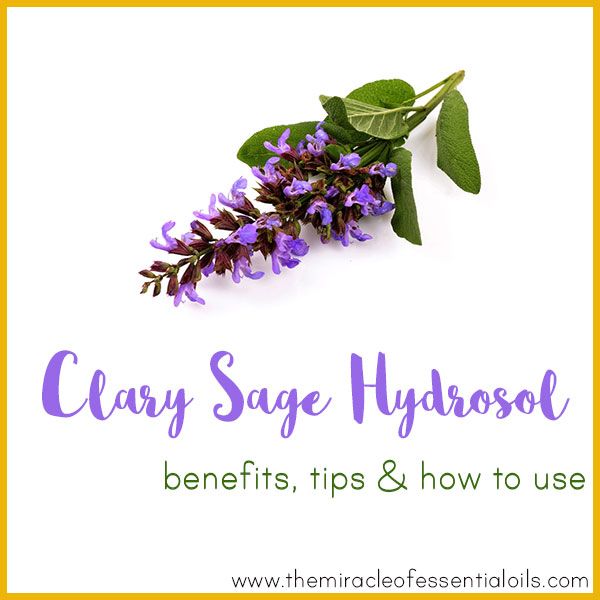 What is Clary Sage Hydrosol?
Clary sage hydrosol is extracted by steam distillation from the flowering tops of the clary sage plant, Salvia sclarea. It is refreshing and has a slight scent of Earl Grey (bergamot) tea, which many find pleasant.
It is a by-product of essential oil steam distillation and has a number of benefits as you will see below:
Benefits of Clary Sage Hydrosol
Below are 7 benefits of clary sage hydrosol for beauty, wellness and health:
1. Astringent
Like many other hydrosols, clary sage hydrosol is a good astringent. This means it helps shrink large pores, reduce oiliness and tighten tone and firm skin.
2. Anti-inflammatory
Clary sage hydrosol has strong anti-inflammatory properties. This makes it good for reducing inflammation related to acne, eczema, psoriasis and other inflammatory skin conditions.
3. Good for PMS
The herb clary sage and its essential oil are known for supporting feminine issues such as PMS symptoms. These include bloating, menstrual cramps, water retention and mood swings. Add a tbsp of clary sage hydrosol to a glass of lemonade to benefit from this PMS relieving hydrosol.
4. Antiseptic
The antiseptic properties of clary sage hydrosol make it good for cleaning and disinfecting wounds. It's also good for keeping pus-filled cystic acne in check and preventing further breakouts. Simply fill a fine mist spray bottle with it and mist onto affected skin.
5. Hormone Balancer
Clary sage is one of the few plants that are known to balance hormones. It is good for menopausal troubles and PMS as well.
6. Stress Reliever
A mood up lifter, stress reliver and mind soother, clary sage hydrosol must be diffused to calm the mind, body and soul when you're going through a tough time – especially during child birth or postpartum. It can also be sprayed around your room.
7. Healing
Clary sage hydrosol has healing effects, which coupled with its antiseptic and hormone balancing properties, is good for healing child birth wounds. Use it in a sitz bath for this purpose. Clary sage hydrosol is also good for childbirth pains.
How to Use Clary Sage Hydrosol
» Facial astringent
In a fine mist spray bottle, add ¼ cup clary sage hydrosol and ½ cup of orange blossom hydrosol. Use it as a facial toner after cleansing your face.
» Soothing Diffuser Blend
Simple add clary sage hydrosol, melissa hydrosol and rose hydrosol in a ratio of 1:1:1 to a cold air diffuser. Let the soothing scent fill the air for at least 15 minutes.
» Birthing pains
A soothing formulation for childbirth pains, according to Suzanne Catty author of Hydrosols: The Next Aromatherapy, is to combine eight ounces of the hydrosol, with three drops of clary sage oil and three drops of blue tansy oil (Tanecetum anuum) and use it in a hot compress on the abdomen or lower back.
» PMS and Hot Flash Spray
Combine ½ cup of peppermint hydrosol and ¼ cup of clary sage hydrosol in a fine mist spray bottle. Mist on face, neck and chest to reduce hot flashes and calm irritability.
For More Ideas on How to Use Clary Sage Hydrosol, Read: 25 Ways to Use Hydrosols 
Where to Buy Clary Sage Hydrosol
Please ensure to purchase 100% pure and organic clary sage hydrosol. You can get it here.