Teething is a painful experience on most babies. It can get difficult for parents too! Learn whether you can use clove bud oil for teething babies and how to use it the right way!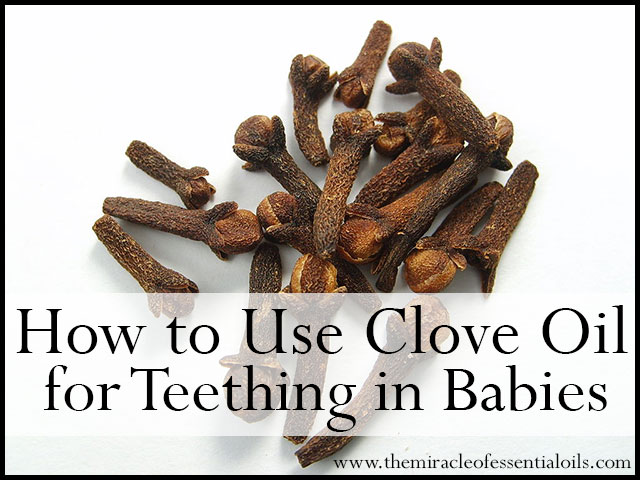 What is Clove Bud Oil?
Clove bud oil is an essential oil extracted from clove buds. Cloves have the highest ORAC value out of the list of top 100 foods. This means they have an incredibly high antioxidant value!
But the best property that clove oil is known for is their pain relieving properties. They contain a potent analgesic compound called eugenol which is a renown pain killer, used industrially, pharmaceutically and domestically.
Is it Safe to Use Clove Bud Oil for Teething Babies?
Yes, you CAN use clove bud oil for teething babies, BUT you have to be VERY cautious.
Remember, essential oils like clove oil are extremely concentrated. To get just 150ml of clove oil, more than 1 kg of dried clove buds. This means 1 drop of clove oil is equal to around 35 clove buds.
Here are the guidelines you must follow when using clove bud oil for teething:
Pure, organic oils – When it comes to babies, never settle for anything less than 100% pure, organic grade oils from reputed sources.
Only over 6 months – Do not use clove oil in babies less than 6 months.
Dilute, dilute, dilute! – Knowing how and why to dilute essential oils is a must for any essential oil user. Dilution is especially important when using oil with babies.
0.5% dilution – Use a 0.5% dilution rate, which means 1 drop of clove oil in 2 teaspoons of carrier oil. Good carrier oils include coconut oil, olive oil, clarified butter and sesame oil.
Last resort – Using clove bud oil or any other essential oils with babies should be the last resort. First try herbs and other natural remedies, with which you may have great results, too.
Where to Get Clove Bud Oil

Please ensure to purchase 100% pure high quality and USDA certified organic clove oil. You can purchase it here.
Natural Alternatives for Teething Babies
Here are some non-essential oil remedies to help your teething baby. These work like a charm!
» Frozen popsicles
Puree some fruits such as banana-strawberry-mango and fill them into popsicle molds. Freeze overnight. Give these popsicle molds to your baby to chew on. This is highly soothing for inflamed gums and numbs the pain. It also gives your baby some healthy nutrients and vitamins! Remember this is for babies over 6 months. For babies under 6 months, you can give them frozen breast milk popsicles.
» Amber teething necklace (where to get it)
These are already quite popular with many natural mamas and they make a great gift for expectant mamas, too! When your baby chews on the amber necklace, the warmth releases succinic acid found naturally in Baltic amber. Succinic acid is a pain killer as it is rich in analgesic compounds and can soothe teething babies.
» Hydrosols
Hydrosols are a safer option compared to essential oils when it comes to babies. Hydrosols are flower waters that are created as a by-product of the essential oil distillation process. Hydrosols contain much the same properties as essential oils but are much safer to use. The best hydrosols for teething are organic chamomile hydrosol and lavender hydrosol, which can soothe, calm and relieve pain in babies.
Have you successfully used clove bud oil for teething? What are your favorite natural remedies for teething? Share in the comments below!