A beautiful blue flower that grows wildly in Europe, cornflower has many uses. Cornflower hydrosol is an amazing extract derived from cornflower. On this page, discover 7 healing cornflower benefits and uses.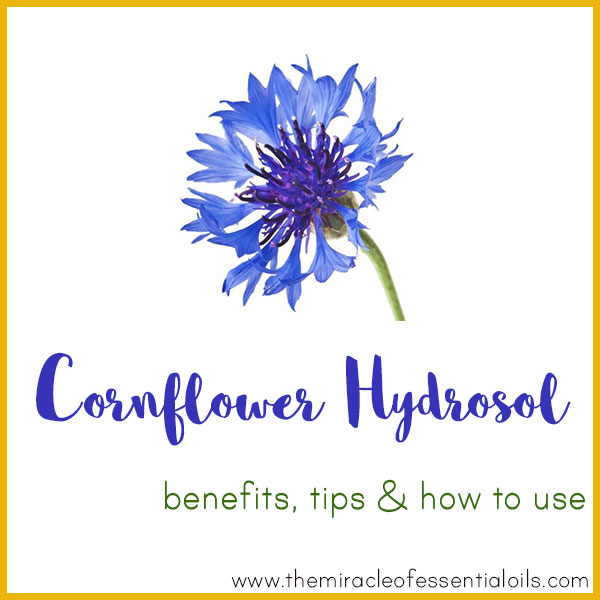 What is Cornflower Hydrosol?
Cornflower, also known as Bachelor's Button, is a delicate and beautiful blue flower native to Europe. It often grew in corn fields hence the name cornflower.
Dried cornflower petals are steam distilled to product cornflower hydrosol. It has a slight flowery aroma and a host of benefits for beauty, health and wellness.
Benefits of Cornflower Hydrosol
Below are 8 benefits of cornflower hydrosol:
1. Antiviral
With its strong antiviral properties, cornflower hydrosol can be used to treat cold sores and itchy eyes. For itchy and red eyes, use it in an eye wash or eye drops.
2. Astringent
Cornflower hydrosol has an astringent effect on skin. It tightens skin, shrinks large pores and removes excess oiliness.
3. Styptic & Anti-hemorrhagic
Styptic means having the ability to stop bleeding. This makes it good for healing cuts and preventing blood loss from hemorrhaging.
4. Cicatrisant
The cicatrisant properties of cornflower hydrosol help fade away scars. It promotes cell regeneration and boosts collagen.
5. Anti-aging
Cornflower hydrosol also boasts anti-aging properties. It promotes youthful and wrinkle-free skin.
6. Sedative
Place 100 ml of cornflower hydrosol in your cold air diffuser to promote peace and calm. You can also use it in a fine mist spray bottle to spray on your pillow or linen to encourage deep and restful sleep.
7. Diuretic
A diuretic promotes drainage of excess water from the body. Cornflower hydrosol can be used to reduce puffy eyes. Simply soak two cotton rounds with it and place it over your eyes for a diuretic effect.
8. Refreshing
Cornflower hydrosol is very refreshing and cooling. Spray it on your face and neck on a hot sweaty day or during hot flashes for relief.
How to Use Cornflower Hydrosol
» Compress for Bruises
In a bowl, pour in ½ cup of cornflower hydrosol and ¼ cup of helichrysum hydrosol. Soak a soft microfiber washcloth in this mixture, wring it out, fold it into a rectangle and apply it to the bruise. Repeat thrice a day.
» Wrinkle Treatment
Combine 2 tsp of cornflower hydrosol, 2 tbsp aloe vera gel and 2 tsp rosehip oil in a dispenser bottle. Apply just a little all over your face after cleansing it as a wrinkle treatment.
» Puffy Eye Reducer
Tear up a seaweed sheet into four pieces and soak them in cornflower hydrosol. Now leave them in the refrigerator overnight. The next morning after washing your face, place the two of the torn-up sheets on both eyes and lie down. Repeat with the rest of the torn-up sheets.
» Diffuser Blend for Babies
In your cold-air diffuser, add cornflower hydrosol and lavender hydrosol in a 1:1 ratio. Diffuse for at least 15 minutes in the nursery before bed.
For More Ideas on How to Use Cornflower Hydrosol, Read: 25 Ways to Use Hydrosols 
Where to Buy Cornflower Hydrosol
Please ensure to buy 100% pure organic cornflower hydrosol. You can purchase it here.