A refreshing and cooling water, cucumber hydrosol is simply AMAZING. Learn cucumber hydrosol benefits, tip and how to use it down below!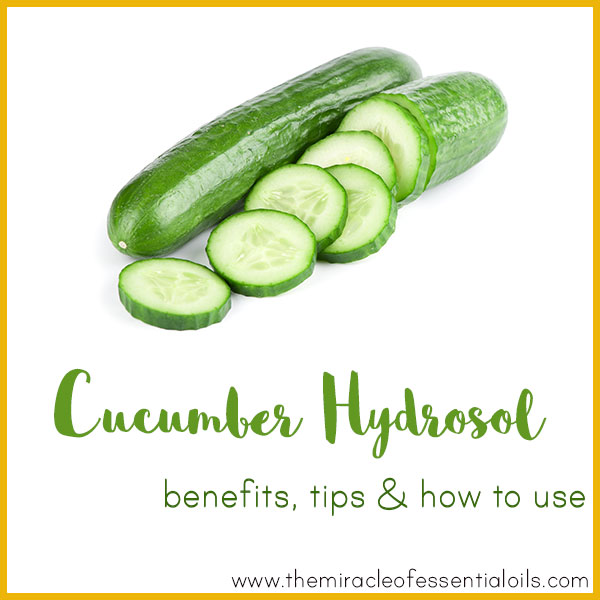 What is Cucumber Hydrosol?
Cucumber hydrosol is definitely a new and exquisite type of distillate. It's actually derived from steam distillation of chopped up cucumbers. As you know cucumbers are made up almost entirely of water so a cucumber hydrosol is easy to obtain.
It can even be made right at home, check out this post on How to Make Cucumber Hydrosol at Home to learn more!
Benefits of Cucumber Hydrosol
1. Cooling properties
Ah…cucumbers, they're so fresh and thirst-quenching on a hot summer's day! Now just imagine how it'd feel to mist your face, neck and body with cucumber hydrosol, a pure extract of cucumber water?!
So refreshing and soothing, that's for sure! Store cucumber hydrosol in a fine mist spray bottle and keep misting it on your body during a hot day to cool down.
2. Anti-inflammatory
Not only for cooling down overheated skin, cucumber hydrosol also has anti-inflammatory properties. This makes it great for reducing inflammation related to acne, sunburn, bug bites, skin rashes, eczema, psoriasis and rosacea.
3. Astringent
Cucumbers are used for toning, tightening and firming skin. It helps reduce oily skin and shrink large pores which gives skin a flawless look.
4. Anti-Aging
With its skin tightening effects, cucumber hydrosol acts as an excellent anti-aging hydrosol. Using it as a facial toner helps prevent wrinkles and fine lines.
How to Use Cucumber Hydrosol
»  Sunburn Soother
Store cucumber hydrosol in a fine mist spray bottle then mist over your sunburn as many times as needed to cool, soothe and repair sunburned skin.
»  Oily Skin Control
Use cucumber hydrosol as a facial toner for oily breakout-prone skin! You can use it as a facial mist. Or, store it in an amber bottle with a cork and dab it on your face with a cotton round.
»  Rosacea Cream
Make a cooling and soothing rosacea cream by combining aloe vera gel, shea butter and cucumber hydrosol.
Just place ¼ cup of pure soft shea butter in a high speed blender then add 2 tbsp of cucumber hydrosol and 1 tbsp of aloe vera gel. Now blend for a minute or two till you get up with a creamy white cream. Use just a tiny amount to moisturize rosacea. You can even store your cream in the refrigerator for more cooling effects.
»  Tired Eye Compress
Tear up seaweed sheets into 4 or 6 tiny pieces that fit over the eyes. Now dip them in cucumber water and place them in the refrigerator. After an hour or two, get two out, lie down and place them over your tired puffy and aching eyes.
Leave them on for a few minutes then place two others. Repeat with however many sheets you tore for soothing relief.
For More Ideas on How to Use Cucumber Hydrosol, Read: 21 Ways to Use Hydrosols 
Where to Buy Cucumber Hydrosol
Purchase 100% pure organic cucumber hydrosol here.