Find out the top cypress hydrosol benefits on this page and how to use it in your daily life!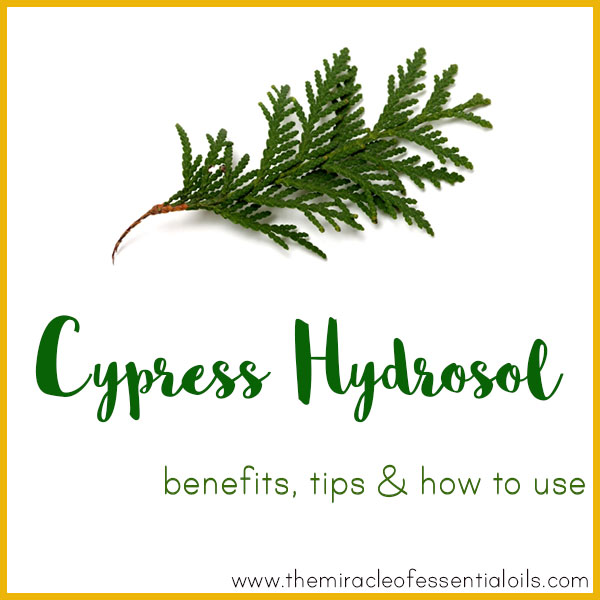 What is Cypress Hydrosol?
Cypress hydrosol is a distillate or pure herbal liquid derived from the steam distillation of twigs and needles of the cypress tree. It is a by-product of cypress essential oil.
Safe and gentle on the skin, cypress hydrosol is said to be antiseptic, styptic, aromatic and more. Read on to find out other properties and benefits of cypress hydrosol below:
Benefits of Cypress Hydrosol
Below are 7 benefits of cypress hydrosol:
1. Antiseptic
Cypress hydrosol is a great antiseptic agent. You can use it to disinfect irritated skin such as cystic acne, eczema and psoriasis. It can also be used as a wound washing disinfectant spray. Simply spray onto the wound as many times as necessary to disinfect it. Then wipe off very gently and dress the wound.
2. Styptic
A styptic substance means it stops bleeding. Cypress hydrosol has styptic properties. Use it as an aftershave spray to help heal nicks from shaving. You can also spray it on fresh cuts to speed up healing.
3. Astringent
Use cypress hydrosol as a facial toner after cleansing your face as a natural astringent. It's a perfect facial toner for acne prone skin.
4. Air freshener
Cypress hydrosol has a fresh herbaceous scent. Place it in a cold air diffuser and diffuse for at least 15 minutes to freshen up a musty room.
5. Anti-inflammatory
The anti-inflammatory properties of cypress oil help with acne, eczema, psoriasis and even rosacea inflammation. Simply spritz it on your skin after toning.
6. Diuretic
When applied on skin, cypress hydrosol is said to have diuretic effects. It can be used for reducing puffy eyes, bloating and even cellulite. Soak cotton rounds with cypress hydrosol and apply them to puffy under eyes.
7. Deodorant
Cypress hydrosol has a very aromatic fresh evergreen scent that makes it a great ingredient for deodorant or body mists. It is suitable to use as a natural masculine perfume.
How to Use Cypress Hydrosol
» Varicose Vein Compress
In two bowls, divide 1 cup of cypress hydrosol so you can ½ cup in each bowl. Now heat one bowl in a double boiler until the hydrosol there is hot. The other bowl, keep it in the refrigerator to cool. When the two hydrosols are ready, get a soft microfiber cloth, soak and wring it out in the hot hydrosol and press it to the varicose veins. Do this two more times. Now repeat with the cold hydrosol. The alternate hot and cold compress will promote flow of the stagnant blood in the varicose veins.
» Deodorant Spray
In an 8oz amber glass spray bottle, combine ¼ cup witch hazel, ½ cup cypress hydrosol and 1 tsp of Himalayan pink salt. Shake well and spray on underarms.
» Body Mist
Keep cypress hydrosol in a fine mist spray bottle. Spritz it all over your body after a shower for a cooling and deodorizing effect.
For More Ideas on How to Use Cypress Hydrosol, Read: 25 Ways to Use Hydrosols 
Where to Buy Cypress Hydrosol
Buy 100% pure cypress hydrosol here.