Making your own deodorant is so possible and incredibly easy! With the right ingredients and correct measurements, you'll have a good working deodorant. Below is a recipe for a lemon scented deodorant with essential oils!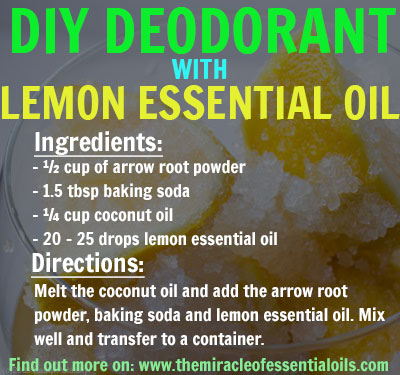 DIY Deodorant with Essential Oils
This refreshing lemon deodorant is very simple to make and it works so effectively that it's too good to be true! It also contains just 4 ingredients that are all-natural. Check them out below, together with their benefits:
Arrow root powder: A silky white powder derived from the arrow root, which is a type of underground tuber. It is rich in minerals like zinc and vitamins including B-vitamins. Arrow root powder is just like corn starch except that it's GMO-free unlike most corn starches out there. The role played by arrow root starch in this deodorant recipe is absorbing sweat and masking bad odor. You can also use corn starch in place of arrow root starch but if you're prone to yeast infections, then it's better to stay away from corn starch.
Baking soda: Baking soda is an excellent sweat absorber and bad odor neutralizer. It may irritate sensitive pits so we're using just a little amount which won't cause any irritation.
Coconut oil: Coconut oil is the base liquid ingredient in this deodorant that helps bind the rest of the ingredients together. It's also a strong antimicrobial agent that helps ward off bacteria, which not only brings bad odor but also causes skin irritation. Coconut oil is also soothing and good for sensitive skin types. It also has a nice coconutty aroma!
Lemon essential oil: The star ingredient in this recipe, lemon oil has a refreshing clean citrusy scent that's great for deodorants. It helps neutralize body odor, keep skin fresh and clean and also has detoxifying properties that help in the elimination of wastes and toxins.
What you Need
Method
Melt the coconut oil gently in a double boiler. You can create a makeshift double boiler by placing a heatproof bowl with the coconut oil resting on top of a pot of ½ cup water. Heat the pot over a medium low flame on the stove top.
Once the coconut oil is melted, add the arrow root and baking soda and stir the three ingredients together to form a creamy mixture.
Remove from heat and let the mixture cool off for about 2 minutes.
After it has cooled, add the lemon oil and stir again until well combined.
Now transfer the deodorant into your clean glass container.
Store in a cool dry place. This refreshing deodorant with essential oils will last for over 6 months, provided you do not introduce water or any other contaminants in it.
To use, scoop out a pea-sized amount with clean fingers and apply on your clean armpits.

Try out this essential oils deodorant recipe and come share your results!