Afraid to lift your arms? Don't worry, this DIY armpit whitening cream can help!
Do You Need to Whiten Your Armpits?
Dark armpits can look displeasing. They can make you feel embarrassed and lower your self-esteem. The good news is, you can lighten the skin on your underarms naturally, at home!
You might be wondering: why do some people suffer from dark armpits? Well, there are several reasons why the skin on your armpits might be discolored. Some of the causes of dark armpits include:
Genetics: You'll often find that dark armpits are hereditary. That means if your mother or father has dark armpits, the chances of you having them are higher.
Race: Some groups of people are more prone to having dark armpits. If you are of Asian or South American decent, you'll be more likely to suffer from dark armpits.
Deodorant: Sometimes the harsh chemicals in under-arm deodorants react with the skin. At first your skin might become red and irritated. Over time, the skin becomes darker and pigmented.
Shaving: Many people notice that in their childhood, their armpits were smooth, soft and light-colored. But when they grow older and begin shaving their underarms, the skin on their pits becomes bumpy and darkens.
Age: Sometimes as people age, they notice their armpits becoming darker and darker. Dark armpits could be a sign of aging in certain people.
DIY Armpit Whitening Cream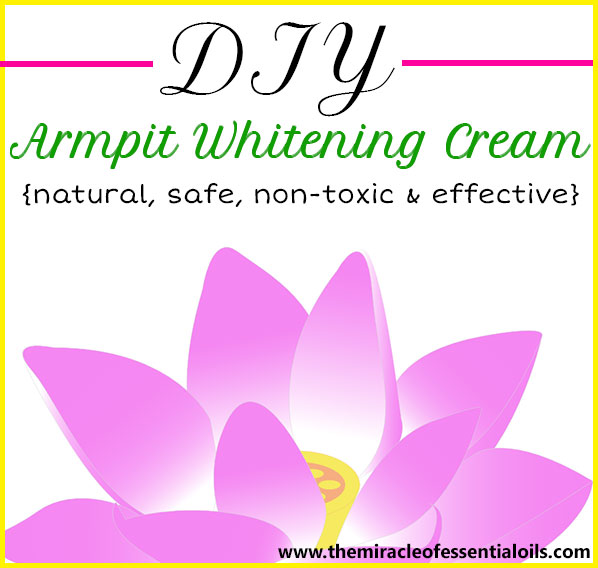 You may have noticed there are plenty of armpit whitening creams in the market. I've also seen deodorants that claim to whiten the armpits. I think whitening deodorants are a bit of a paradox since deodorants by default contain harsh chemicals that darken the skin! Your best bet is to make your own safe deodorant at home. You can find the recipe for DIY deodorant here:
Now commercial armpit whitening creams might seem like the best option for you. But there are many reasons why you shouldn't use them. For one, they can get really expensive. The other reason is they are often filled with dangerous bleaching chemicals that can pose health risks. Chemicals such as hydroquinine, skin bleaching agents and mercury compounds are often found in skin whitening creams. These chemicals are known to be neurotoxins and carcinogens. They can cause cancer and disrupt hormonal balance.
I assure you that making your own DIY armpit whitening cream is so EASY! There's no need for you to buy harmful underarm whitening creams!
How to Make Armpit Whitening Cream at Home
Here's a step-by step guide on how to make armpit whitening cream at home:
What you need:
Directions:
In a food processor or small blender jar, pour in all your ingredients one by one. It doesn't matter which order you pour them in.
Now secure the lid and blend everything for 2 minutes. Open and scrape down the sides with a spatula if needed.
You will notice that you have a nice fluffy cream after blending.
Transfer this cream into a clean dry container. It is preferable to use a dark amber-colored glass container to preserve the potency of the cream.
Your armpit whitening cream is now ready for use!
How to Use Your Armpit Whitening Cream
It is recommended you use your armpit whitening cream twice a day. Once in the morning and once at night before bed.

Do you have a favorite armpit whitening cream that works? Share in the comments below!