Carrot seed essential oil is the best oil for sun protection. Now you can learn how to make your own DIY carrot seed essential oil sunscreen recipe at home. It's easy and fun!

Where Does Carrot Seed Oil Come From?
Before we look at our awesome DIY carrot seed essential oil sunscreen recipe, let's check out some interesting tid bits about carrot seed oil.
Carrot seed oil is extracted from the seeds of the Daucus Carota plant that belongs to the Apiaceae family. It's also called Wild Carrot and the essential oil is obtained by crushing the wild carrot seeds or by steam distillation of dried carrot plants. Wild carrots are not the same as common carrots, and they do have medicinal seeds while their root is not to be eaten.
The nomenclature, Carrot seed derives from the Greek word, Caroton, which has been around since ancient times.
Carrot seed oil is characterized by a pleasant smell dominated by earthy, woody undertones and herbaceous top notes and is usable only as a massaging agent when extracted from the plant's wild and white-rooted version called Queen Anne's Lace.
Carrot seeds rich in chemical compounds like vitamins A, B, C, D, E, beta-carotene, and F a & b-pinene, sabinene, camphene, y-terpinene, myrcene, b-bisabolene, limonene, carotol and geranyl acetate. The essential oil extracted from the seeds contain much of the same ingredients.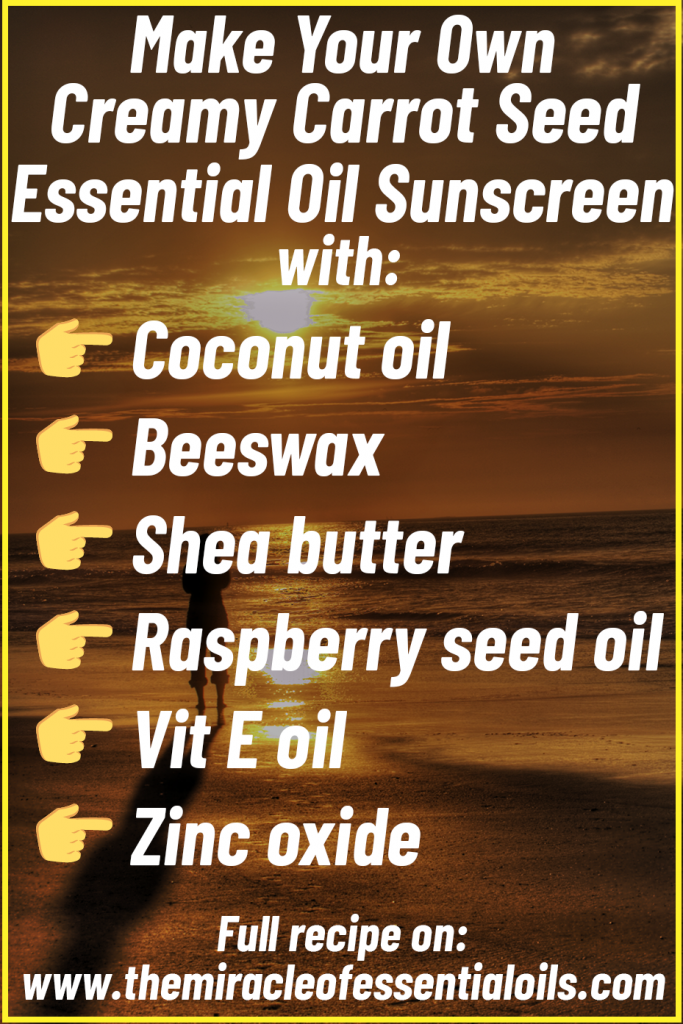 Why Bother Making Sunscreen At Home?
Of late, it as been widely reported both in the print media and numerous online portals that most of the commercial sunscreens available in the market contain synthetic chemicals that do more harm to your skin than any actual good. These ingredients include Octinoxate, Oxybenzone, 3-BC and 4-MBC and have been found in the milk of nursing mothers, which is obviously getting passed on to breastfeeding infants. These chemicals are also known to cause acute skin allergies as also serious gynecological conditions like endometriosis by mimicking the natural estrogen produced by the body.
This is unacceptable and calls for a serious review of chemical-based sunscreens, which are characterized by inferior stability and penetrate the skin, disrupting the hormone system.
Moreover, the mineral-based sunscreens often contain titanium and zinc in micronized or other harmful nano particles.
At least, when you make a DIY sunscreen at home, you are sure that you are using only natural ingredients which have no known side effects.
In gel or bar form, homemade sunscreen solutions tend to be organic, waterproof and have lower SPF ranging between 20 and 30.  However, let's be real, DIY sunscreens may take longer to apply because of their beeswax content which takes time to spread. But to me, it's worth it!
Non-waterproof and organic homemade sunscreen lotions may be quickly applicable, have a lower SPF and also improve skin tone.
DIY Carrot Seed Essential Oil Sunscreen Recipe
Our DIY carrot seed essential oil sunscreen recipe is essentially focused on the oil's vitamin A and beta-carotene content that act as the most effective anti-ageing agents. Carrot seed oil also protects darker skin tones from hyperpigmentation.
Ingredients
Here are the easy ingredients that you need for our DIY carrot seed essential oil sunscreen:
• Carrot seed oil – 20 drops (where to get it)
• Coconut oil – One ounce (where to get it)
• Beeswax – One ounce (where to buy)
• Shea, cocoa or mango butter – One ounce (where to buy)
• Raspberry seed oil – 1/2 ounce (where to buy)
• Vitamin E oil – One teaspoon (where to get it)
• Zinc Oxide – One tablespoon (where to buy)
Directions
Place a double boiler over low heat to melt the beeswax, coconut oil and butter.
Remove and let it cool slightly.
Subsequently add the carrot seed, Vitamin E and red raspberry oils and mix thoroughly. Store in a BPA-free plastic or glass jar.
Keep it overnight, allowing it to solidify.
Store in a cool, dry place and apply before exposing yourself to strong sunlight.
This DIY homemade sunscreen gel has a naturally high SPF and may be used regularly, even on children.
Notes
Bear in mind that adequate protection against direct sunlight is essential because its UV rays can not only damage skin severely. If you will be spending a lot of time under direct sunlight, use our DIY sunscreen to protect your skin.
Please ensure that your DIY recipe has the best ingredients because your children would be using it also.
It is seen in most cases that DIY homemade sunscreen lotions or gels add up to the daily SPF of 30. Medical experts opine that prolonged use of a DIY sunscreen is likely to cause skin damage including skin cancer later on.
Even though natural ingredients like zinc oxide offer protection from sunlight, the sunscreen gel's protection standard or quality, stability of ingredients used and how long it's effects will last on the skin can't be guaranteed.
It as also been proved that most sunscreens block the body's ability to manufacture its own Vitamin D completely. 75% of regular sunscreen users have been found to be Vitamin D deficient, which is certainly a higher risk for heart disease and skin cancer.