Find out how to make an easy DIY dandruff shampoo with essential oils in this post!
It's crazy how anti-dandruff shampoos on the market actually exacerbate dandruff for some people (including me and my sister). Do you want to know the reason why? It's because these shampoo contain SLS (Sodium Lauryl Sulfate) that has an extremely powerful cleansing action, which is NOT good for our scalps.
It completely strips away all our natural scalp oils, leaving the scalp as dry as a desert. This automatically leads to flaking of the scalp and dandruff. Also, when all the scalp oils are removed, the scalp goes into an overdrive producing more oils to make up for the loss. This makes the scalp extra oily, which also causes dandruff!
So what do you do when you can't use anti-dandruff shampoos anymore? Make your own DIY dandruff shampoo with essential oils! In this recipe, we shall be using two essential oils: tea tree and lavender. The best essential oil for dandruff is tea tree essential oil. Lavender essential oil soothes the scalp, fights scalp itch and irritation as well as keeps the hair moisturized, counteracting the astringent/drying effects of tea tree oil.
Okay, onto the recipe!
Easy Recipe: DIY Dandruff Shampoo with Essential Oils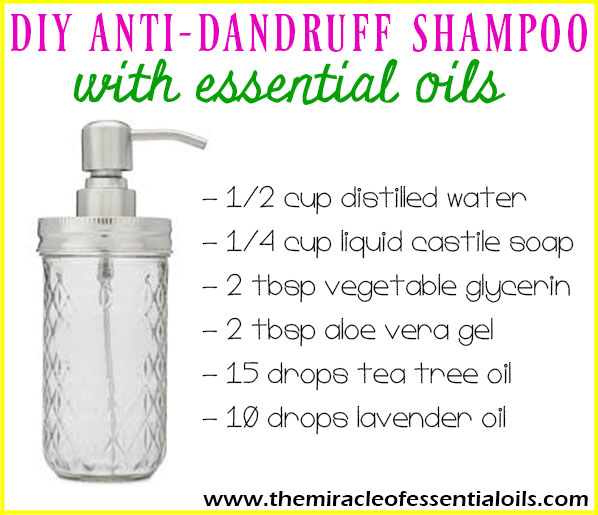 What you need
½ cup distilled water
¼ cup liquid castile soap
2 tbsp vegetable glycerin
2 tbsp aloe vera gel
15 drops tea tree essential oil
10 drops lavender essential oil
Funnel
Foaming soap dispenser
Directions
Using a funnel, pour ½ cup of distilled water into a foaming dispenser bottle.
Next pour in ¼ cup of liquid castile soap. You can use unscented liquid castile soap or tea tree liquid castile soap.
Drop in 2 tbsp of vegetable glycerin and 2 tbsp of pure aloe vera gel.
Lastly, carefully add 15 drops of tea tree essential oil and 10 drops of lavender essential oil.
Close the bottle and shake for 4 seconds to mix everything up.
And what do you know?! Your diy dandruff shampoo with essential oils is ready!
Store in a cool dry place. It'll last over a month, just don't contaminate it by adding tap water or other ingredients.