Making your own DIY essential oil bath salts is as easy as anything! Learn how to make bath salts with a very simple recipe in this post!
Why buy bath salts filled with artificial fragrances and chemical preservatives when you can very quickly make your own! When you make your own bath salts, you're not only saving some cash but also avoiding unhealthy ingredients in conventional bath salts.
What's more, you get to customize your bath salts however you want! You can make relaxing bath salts, muscle soothing bath salts, pain relieving bath salts, bed time bath salts and more! All you need is different essential oils for their different therapeutic properties! For example, if you want a soothing bath salts recipe, you'd use peppermint essential oil and for a bed time bath salts recipe, lavender essential oil is your best bet! Okay, now let's check out the different essential oil combinations for bath salts that you can use:
Essential Oil Combinations for Bath Salts
Lavender and eucalyptus together create a fresh and soothing scent for this DIY essential oil bath salts recipe. But feel free to use other essential oils of your choice! Other essential oil blends you can use are:
DIY Essential Oil Bath Salts Recipe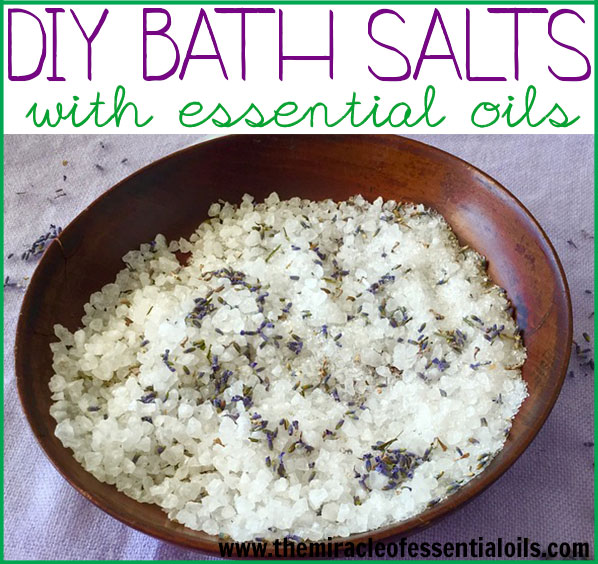 What you need
Directions
Into a large mixing bowl, add 1 cup Epsom salts, 1 cup sea salt and ¼ cup baking soda. Use a whisk to mix the powders together.
Now add your 10 drops of lavender essential oil and 10 drops eucalyptus essential oil. Whisk to disperse the essential oils throughout the mixture.
Using a ladle, collect the mixture and pour it into your mason jar(s).
Your DIY essential oil bath salts are ready!
To use, place ¼ to 1 cup of bath salts into a warm bath. Use every week or at least once a month!