Most of us love soaking in the tub but when the time comes for cleaning that tub, there's a lot of reluctance and procrastination. Fortunately, this DIY essential oil bathtub cleaner will make cleaning your bathtub really easy and fun!
Bathtubs can be hard to clean, especially with the hard water stains. And if you use conventional cleaners to clean your bathtub, your whole bathroom is left smelling like strong chemicals. This is not only off putting but can also trigger the awful sneezing, itchy eyes and runny noses, a.k.a allergies.
This DIY essential oil bathtub cleaner also smells a bit strong but the essential oils mask the scent into a pleasant one. It also doesn't contain toxic chemicals found in store-bought cleaners so it's so much better.
Does it work? It sure does! All you need to do is scrub the tub with the cleaner and a washcloth. Then leave it to soak for about 15 – 20 minutes. When you come back, wipe off the grime then rinse with warm water. And you're done!
Your bathtub will be so clean you'll feel like taking a bath in it!
Okay, let's move onto the recipe!
DIY Essential Oil Bathtub Cleaner
Note: This recipe is just enough to clean the whole tub so it's for one-time use.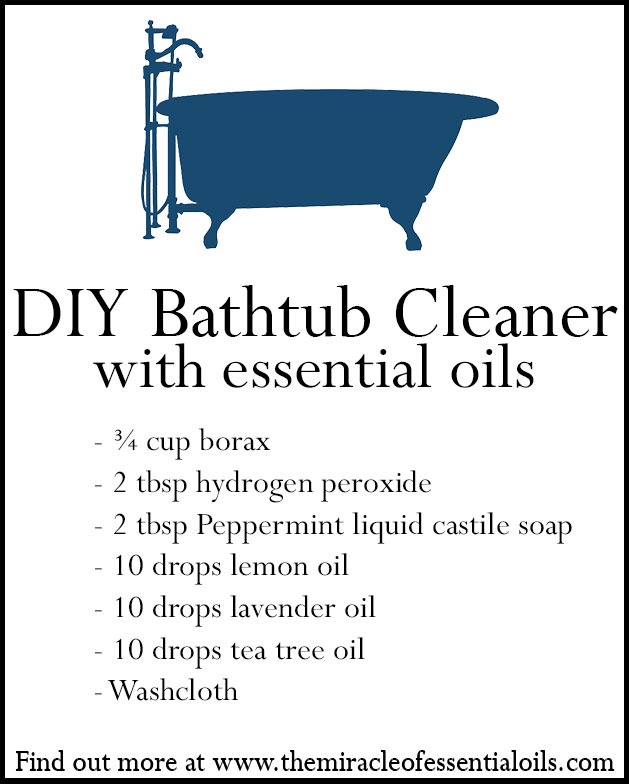 What you Need
Method
In a mason jar, add the borax, liquid castile soap and hydrogen peroxide.
Mix it well to form a paste then add the essential oils and mix again.
Dip the microfiber washcloth into the jar then start scrubbing the tub.
Now leave the mixture to sit for 15 minutes then come back and wipe off with the washcloth.
Rinse off with warm water.
Tada! Admire your squeaky clean and shiny white bathtub!

What do you clean your bathtub with? Will you try out this DIY essential oil bathtub cleaner?