Invoke peace and calm with this DIY essential oil blend for ADHD.
What is ADHD?
ADHD was largely unheard of in the previous eras. Today ADHD is a common phenomenon and is commonly brought about due to food sensitivities and allergy. Modern foods which are highly processed, dyed with artificial food coloring and tainted with GMOs tend to trigger ADHD.
ADHD stands for Attention Deficit Hyperactive Disorder and it affects up to 5% of children in the US. The symptoms of ADHD include:
Extremely distracted
Lack of focus
Trouble getting organized
Emotional extremes
Fidgeting and hyperactivity
Forgetfulness and lack of concentration
How Can Essential Oils Help ADHD?
If you go to the doctor for ADHD, you'll most like be prescribed with drugs like Ritalin. Drugs like Ritalin have some alarming side effects like nerve damage, hormonal disruption and growth stunting.
By using essential oils, along with other natural remedies, you can reduce the need for medication. You may altogether do without prescription drugs entirely.
Essential oils are pure natural plant derived essences. They are obtained by extracting the minute quantities of plant oils found in flowers, leaves and other parts. They are highly concentrate, and they contain remarkable healing properties.
Top 10 Essential Oils for ADHD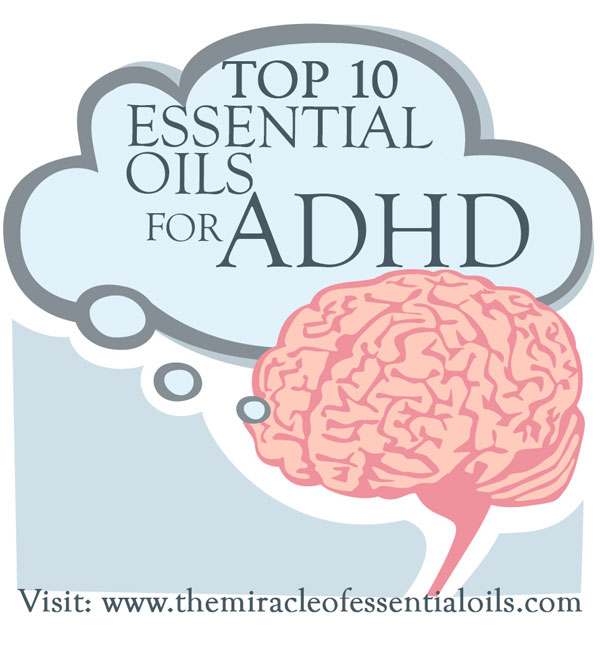 In a previous publishing, we talked in depth about the top 8 essential oils for ADHD. If you would like to read that article, here it is: 10 Beneficial Essential Oils for ADHD or ADD including Recipe Blends
To recap, let's take a look at the best essential oils for ADHD:
Cedarwood
Ylang ylang
Vetiver
Lavender
Roman chamomile
Patchouli
Frankincense
Peppermint
Rosemary
Mandarin
DIY Essential Oil Blend for ADHD
Now let's look at a power blend that brings together dedicated essential oils for ADHD:
What you need:
2 teaspoons of sweet almond oil
5 drops of lavender essential oil
3 drops of vetiver oil
3 drops of patchouli oil
2 drops of peppermint oil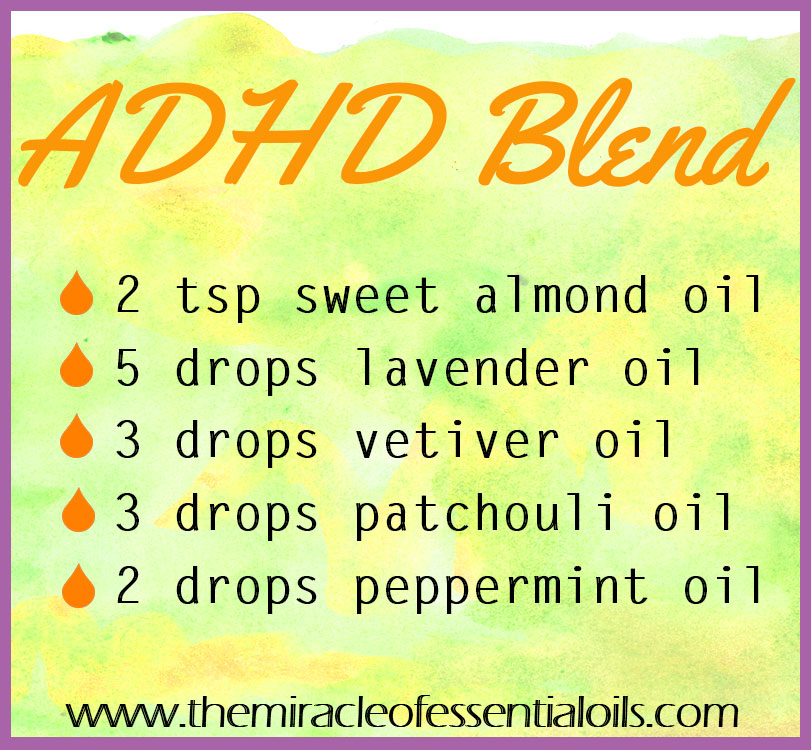 Directions:
In a small glass bottle, pour in all the above mentioned quantities of oils.
Screw on the lid to your bottle and shake to mix everything up.
Now you can use this blend in many versatile ways.
How to Use Your Essential Oil Blend for ADHD
Here are the best ways to use your essential oil blend for ADHD:
Apply 5 – 10 drops on the soles of the feet for a relaxing foot massage.
Pour in 15 drops of the blend to your bath.
Apply on the temples, wrists and base of the neck.
Diffuse the blend in your favorite diffuser. If you don't have one, you can buy a high quality diffuser here.

What's your favorite essential oil blend for ADHD?