An easy DIY essential oil blend for anxiety that helps you manage and treat it in a natural way.
What is Anxiety?
Everyone suffers from anxiety in one way or the other. In fact, anxiety is a natural emotion. But for some people anxiety can be a debilitating condition, especially if it is chronic.
Anxiety is defined as a state of uncertainty, fear or apprehension. It often arises as a result of letting your mind focus and dwell upon troubles and woes. It is a mental behavior that for some, becomes a disorder. In anxiety disorder, the anxiety does not go away and the person is left in a state of chronic anxiety. It may also lead to other problems such as panic attacks and panic disorder.
DIY Essential Oil Blend for Anxiety
Anxiety can strike at any time, so you want this blend to be available whenever you need it. The acupuncture point for reducing stress and anxiety is the inner side of your right wrist (picture attached) so you can roll this blend on that spot whenever you feel anxiety building up. You can also directly inhale the blend from the bottle, or put a few drops of it on your handkerchief to sniff whenever needed.
Now let's get onto the recipe!
What you need:
12 drops of lavender
8 drops of rose
4 drop of vetiver
Sunflower oil
10 ml roller bottle
Roller ball remover tool
Syringe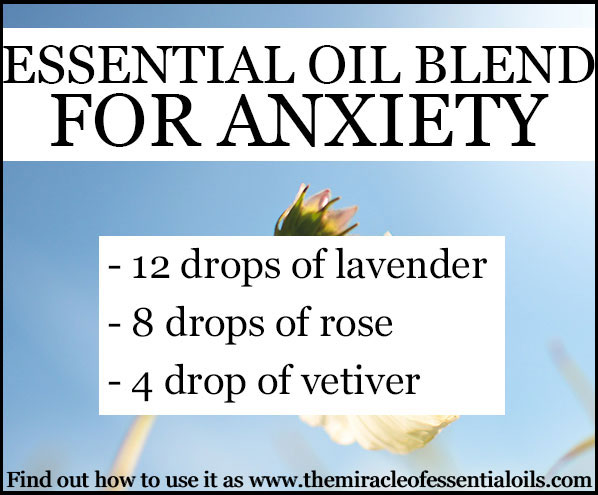 Directions:
Get an empty roller bottle add the essential oils, drop by drop.
Now fill the bottle to the top with sunflower oil. You can use a funnel or sterile syringe to do this. Place the roller ball back in position, screw on the lid and shake gently to get all the contents evenly distributed.
Your diy essential oil blend for anxiety is now ready for use!
Other Natural Remedies for Anxiety
At the bottom of it all, anxiety is a mental problem that can be triggered by poor food choices, synthetic chemicals and toxins in daily use products, lack of adequate water intake and stress. Here are some additional natural remedies you can follow to reduce anxiety:
Take on daily meditation for at least 15 minutes a day. This will reduce your stress levels and keep your mind more relaxed.
Do not get overly excited or overly depressed over any situation. Keep your emotions more stable to prevent anxiety and panic.
Avoid processed food and soft drinks. Eat more wholesome, nutritious foods such as nuts, sea fish , greens and cruciferous vegetables.
Drink plenty of filtered water to keep hydrated.
Exercise daily for 40 minutes to keep your body and mind fit. Being dormant and immobile will make you more prone to anxiety.
Do not be afraid of anxiety. After all, it is just a human emotion. Allow the anxiety to pass. There is nothing 'wrong' with you. With proper behavior training, anxiety can be conquered.

Please try out this easy DIY blend for anxiety and tell us how to worked for you!