Hopefully, this DIY Essential Oil Blend for Dry Skin will help your skin regulate its sebum production and become healthy & moisturized!
What is Dry Skin?
Dry skin comes in many forms. There's dry itchy skin, dry cracked skin, dry flaky skin and more! However, the main feature of all dry skin types is little to no moisture/sebum on the skin. Dry skin can feel tight, painful, itchy, inflamed and scaly. Some of the causes of dry skin include:
Dehydration
Harsh face washes or cleansers containing SLS
Certain beauty products that are alcohol-based
Not eating enough healthy fats in your diet
Cold weather
Strong winds
Etc
How Can Essential Oils Help Dry Skin?
Essential oils are powerful potions when it comes to healing skin care ailments. Oils such as lavender, jasmine, sandalwood, geranium and rose are moisturizing in nature.
Jasmine oil is one of the best moisturizing oils in my opinion – I tested it out on my hands! The result was moisturized, baby soft and silky hands!
Essential oils also have soothing properties that help calm down irritated dry skin. Anti-inflammatory properties in essential oils are good for reducing redness and inflammation in dry skin.
DIY Essential Oil Blend for Dry Skin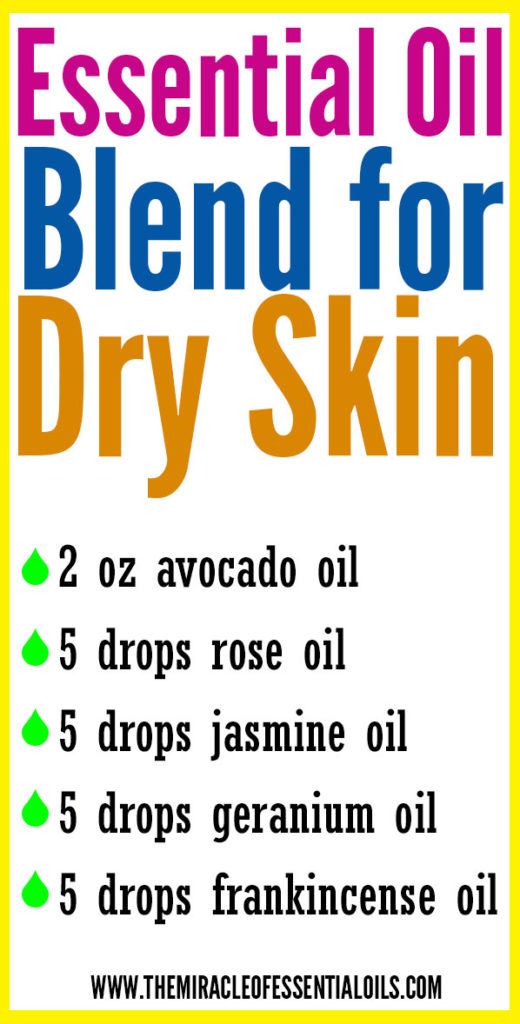 What you need:
2 oz avocado oil
5 drops rose otto oil
5 drops jasmine oil
5 drops geranium oil
5 drops frankincense oil
Small funnel
2 oz amber glass dropper bottle
Directions:
With the help of a funnel, pour 2 oz of avocado oil into a 2 oz amber glass dropper bottle.
Now carefully add 5 drops each of rose, jasmine, geranium and frankincense essential oils.
Screw on the cap tightly and shake the bottle gently to combine all the ingredients.
Your DIY Essential Oil Blend for Dry Skin is ready!
Use in place of your daily moisturizer or just before your daily moisturizer. You do not need to layer your face with this blend. Just 3-4 drops all over your face can work. You can also use this blend under your makeup.

Are you ready to try out this DIY Essential Oil Blend for Dry Skin?