Find promising relief with this DIY essential oil blend for psoriasis.
What is Psoriasis?
Psoriasis is not a skin disease, but rather an autoimmune condition. It is a condition where by the immune system is compromised and the body begins attacking its own skin cells.
Instead of the skin regenerating every 4 weeks, in psoriasis the skin regenerates every 3 days. This causes dry, flaky skin and large red or white welts.
Psoriasis can be painful, irritating, itchy and embarrassing. Some people have it only in the folds of their skin, while others have it on larger surfaces such as the back and the legs. Some suffer from psoriasis on the scalp, which can cause hair loss and hair thinning.
How Can Essential Oils Help Psoriasis?
We have to remember that psoriasis is an autonimmune disorder. At the foundation of psoriasis healing is the strengthening of the immune system. The basic formula to heal psoriasis is 'heal the immune system'.
You must incorporate immune-strengthening foods and habits into your daily lifestyle. At the same time, you must avoid immune-damaging foods and habits.
Among the best natural remedies you can use to heal psoriasis are essential oils. Essential oils are natural, potent plant essences that are extracted from various plant matter. Essential oils have been used for millennia and are concentrated in many healing compounds.
Essential oils can help get rid of psoriasis by:
Reducing inflammation
Regulating hormones
Relaxing the mind
Reducing stress
Soothing itchy skin
Strengthening the immune system
What Are The Best Essential Oils for Psoriasis
We have already talked in-depth about the best essential oils for psoriasis. You can check that helpful article here: Top 20 Essential Oils to Treat Psoriasis
To recap, let's take a look at some of the best essential oils for psoriasis relief:
Tea tree
Lavender
Frankincense
Angelica
Geranium
Helichrysum
Bergamot
Chamomile
Sandalwood
Patchouli
DIY Essential Oil Blend for Psoriasis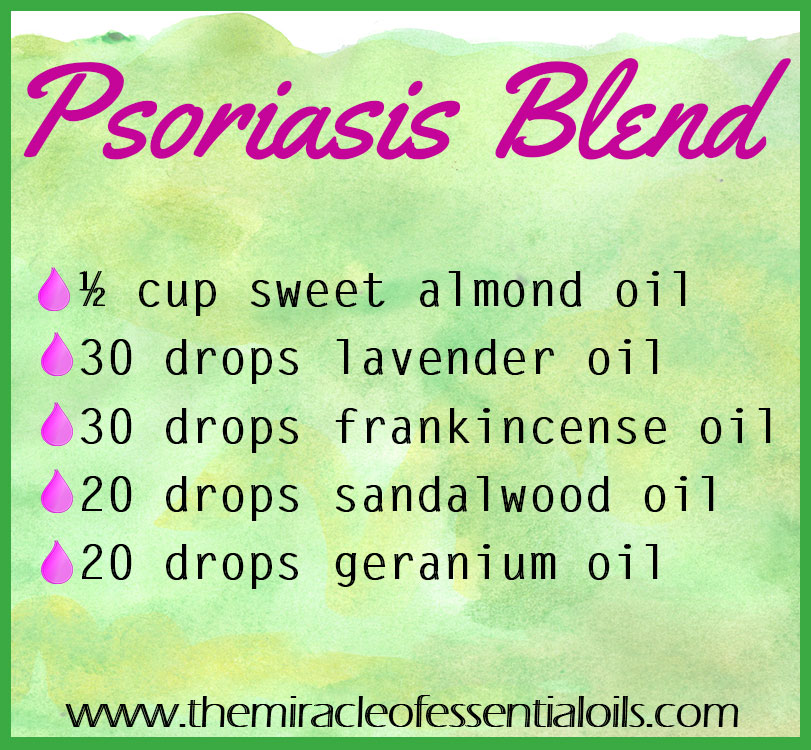 This potent diy essential oil blend for psoriasis is wonderful for soothing and relieving psoriasis. It takes minutes to make and is very easy to incorporate into your life!
What you need:
½ cup of sweet almond oil
30 drops of lavender oil
30 drops of frankincense oil
20 drops of sandalwood oil
20 drops of geranium oil
Directions:
In a 4 oz glass bottle, mix in the required quantities of all the oils above. Feel free to recycle a clean glass bottle that you already have at home!
Now tighten the lid and shake gently to mix everything up.
Your DIY essential oil blend for psoriasis is now ready for use!
How to Use Your Essential Oil Blend for Psoriasis
This blend is really versatile and you can use it in many creative ways to relieve psoriasis. Here are the best ways to use your essential oil blend for psoriasis:
Apply the blend directly onto psoriasis spots on you skin
Gently massage the blend to relieve itchy dry skin
Diffuse the blend to calm your mind and prevent psoriasis flare-ups caused by stress
Take a regular bath soak with 2 teaspoons of the blend and 1 cup of rolled oats for soothing relief

How do you use essential oils to treat psoriasis?