When you have restless legs, you know how awful it can be: the uncontrollable urge to move your legs, that tingling weird sensation, and disturbed sleep are just some of the symptoms that can just about make you go crazy.
Many people live with restless leg syndrome, some without even knowing what it is – just moving on through the discomfort. But you can make your life more bearable when you have RSL. Leave alone hot compresses, heating pads and OTC pills. Have you tried using essential oils? These natural plant extracts are powerful healers for a myriad of health conditions because of their numerous therapeutic properties. How do essential oils help restless legs you ask? Read on to find out!
How Essential Oils Work for Restless Legs
According to the National Institute of Neurological Disorders and Stroke, Restless Leg Syndrome is best described as a neurological sensory disorder with symptoms that are produced from within the brain itself. Now essential oils when applied or inhaled directly enter into the blood stream which helps give immediate relief. Some of the therapeutic properties essential oils have that help for restless legs include:
Analgesic properties – this means they help numb pain and can reduce the tingling sensations brought about by restless legs.
Antispasmodic – helps relieve or reduce muscle spasms which may relax the leg muscles and help ease discomfort caused by overworked legs.
Anti-neuralgic – eases sharp stabbing pain caused by an irritated or damaged nerve.
Sedative – soothes and relaxes the mind, leading to better quality of sleep and rest.
Top 10 Essential Oils for Restless Legs
Peppermint essential oil
Lavender essential oil
Vetiver essential oil
Marjoram essential oil
Lemongrass essential oil
Black pepper essential oil
Roman chamomile essential oil
Clove essential oil
Yarrow essential oil
Ginger essential oil
Versatile Recipe: Essential Oil Blend for Restless Legs
Now check out this versatile recipe that makes use of all these powerful essential oils to treat restless legs naturally!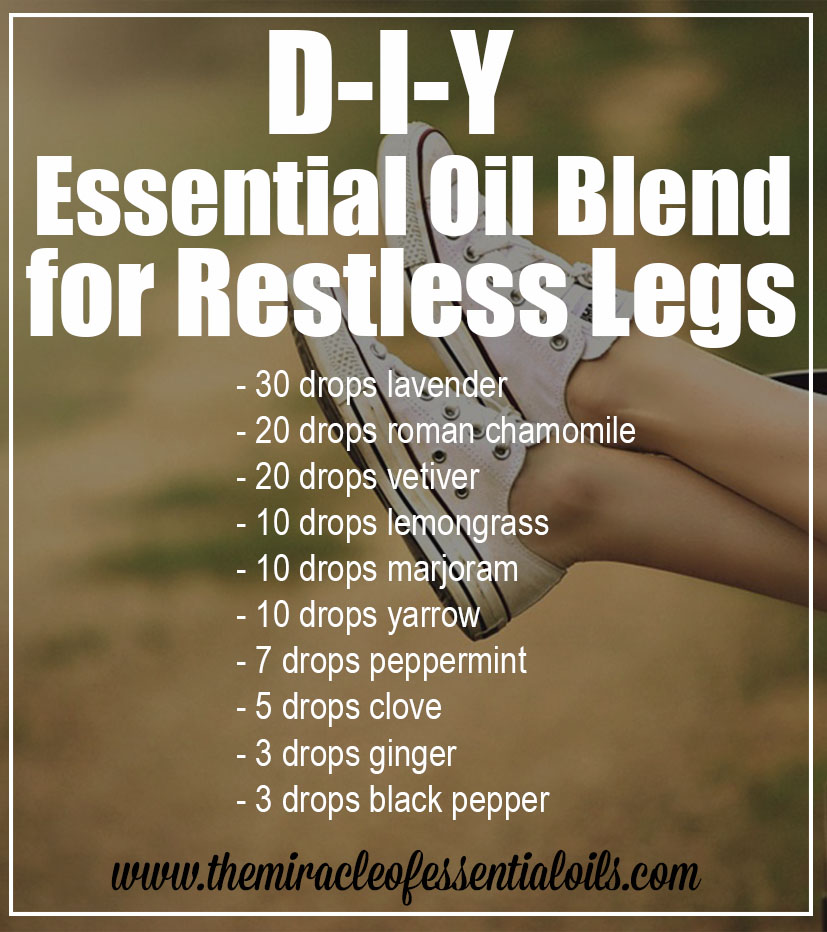 What you need
30 drops lavender essential oil
20 drops roman chamomile essential oil
20 drops vetiver essential oil
10 drops lemongrass essential oil
10 drops marjoram essential oil
10 drops yarrow essential oil
7 drops peppermint essential oil
5 drops clove essential oil
3 drops ginger essential oil
3 drops black pepper essential oil
Empty essential oil bottle or dark colored glass bottle
Directions
Remove the orifice dropper of your empty essential oil bottle.
Now carefully add all the drops of essential oils into the bottle.
Firmly place back the orifice dropper and put the stopper on.
Mix the essential oils together by gently rolling the closed bottle between your palms.
Your essential oil blend for restless legs is ready!
How to Use the Above Essential Oil Blend for Restless Legs
Here are some of the ways you can use this blend:
In a diffuser: Add 6 drops of this blend into your high quality diffuser and relax. The essential oil molecules you inhale travel quickly to your brain.
In a foot soak: Fill a bucket or small tub with warm water. Now mix about 10 drops of the blend with 1/4 cup of epsom salts. Mix well. Put your feet in and soak for 15 minutes.
In a bath: Mix 10-15 drops of this blend with 1 tbsp coconut oil and add it to your bath water.
Leg massage blend: Mix 6 drops of this blend in 3 tsp of a carrier oil of your choice and use it as a massage oil for your legs.
Have you tried using essential oils for restless legs? Will you try this essential oil blend for restless legs? Share below!