Find out how to make your very own DIY essential oil deodorant with baking soda in this article!
It's high time we stopped purchasing store-bought deodorants and started making our own. When it's incredibly easy to make and it works so effectively, what's there to lose?! Ever since I started making my own deodorants, there's no turning back. I'm hooked for life!
Why Add Essential Oils to Your DIY Deodorant?
Homemade deodorants can never be complete without adding a few drops of essential oils. Essential oils are potent liquid extracts got by steam distillation of aromatic parts of plants. Since they are very concentrated, it's important to use just a few drops in your deodorant recipe.
Essential oils neutralize BO and keep your underarms smelling clean, fresh and lovely. Take for example, ylang ylang oil – it has a beautiful floral scent that is to die for. Citrus essential oils are fresh and perfect for an uplifting scent. Peppermint is refreshing and cooling.
The antibacterial properties of essential oils also play a part in fighting off BO causing bacteria! This keeps your underarms free of germs and irritation.
Why Add Baking Soda to Your DIY Deodorant?
Baking soda on the other hand, is another popular and effective ingredient to add to your homemade deodorant. Its role is to soak up sweat and neutralize BO. Do not add a lot of baking soda to your deodorant recipe. When I see DIY deodorant recipes calling for ½ cup, I can't believe my eyes – all that will surely cause BURNING pits to no end! Too much of baking soda causes burning sensations and irritation. That's why in this recipe, we shall only be using 1 tbsp and 1 tsp of baking soda. You won't feel a thing – no itches, irritation, redness or burning sensations!
Now let's head on to the DIY Essential Oil Deodorant Recipe with baking soda!
DIY Essential Oil Deodorant with Baking Soda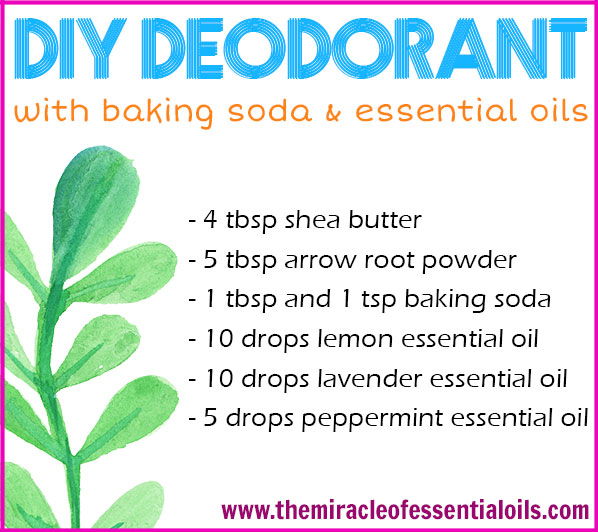 What you need
Directions
Into a small pan, add 4 tbsp of shea butter. Heat the pan over a low heat until the shea butter gently melts.
When it has melted, remove from heat and stir in 5 tbsp of arrow root powder and 1 tbsp and 1 tsp baking soda.
This will form a creamy white mixture.
Let it cool for about 2 minutes then add all the drops of essential oils. Stir well.
Transfer into a glass jar and let it set in the refrigerator for 30 minutes.
Your DIY essential oil deodorant with baking soda is ready! Store it in a cool dry place.
To use, scoop up a pea-sized amount using clean finger tips and apply on clean underarms.