Find out how to make an easy DIY essential oil eczema cream in this post!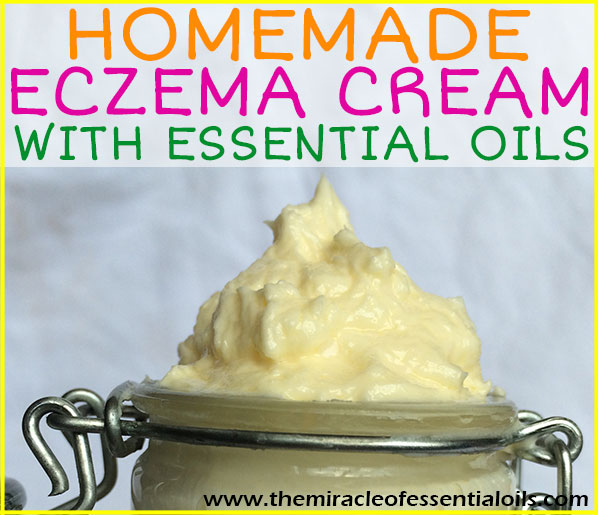 Dry, itchy and inflamed eczema patches are awful. Thankfully, there are several homemade remedies you can use to find relief fast and promote faster healing. Among the remedies you can try out are colloidal oatmeal baths, Epsom salt baths and this DIY Essential Oil Eczema Cream!
It uses just 6 ingredients and they are: shea butter, calendula-infused oil, raw honey, lavender essential oil, tea tree essential oil and roman chamomile essential oil. All these ingredients are all-natural and have healing properties.
You can buy calendula-infused oil or make your own! Here's how to make it: Fill a mason jar with a handful of dried calendula flowers. Now pour in enough olive oil to submerge the flowers. Leave the mason jar on a sunny window sill for 2-3 weeks. When the time is up, strain the oil from the dried flowers and voila! Your calendula-infused oil is ready!
Easy Recipe: DIY Essential Oil Eczema Cream
Note: Before using this DIY essential oil eczema cream, please do a patch test to see that the ingredients used won't irritate your skin. To do a patch test, rub a pea-sized amount of the cream on your inner elbow. Monitor the area for 1-2 hours. If there's no irritation, then yay, it's safe to use!
What you need
½ cup shea butter
¼ cup calendula-infused oil
1 tbsp raw honey
10 drops lavender essential oil
10 drops tea tree essential oil
10 drops roman chamomile essential oil
Double boiler
Hand mixer
8 oz amber glass jar for storage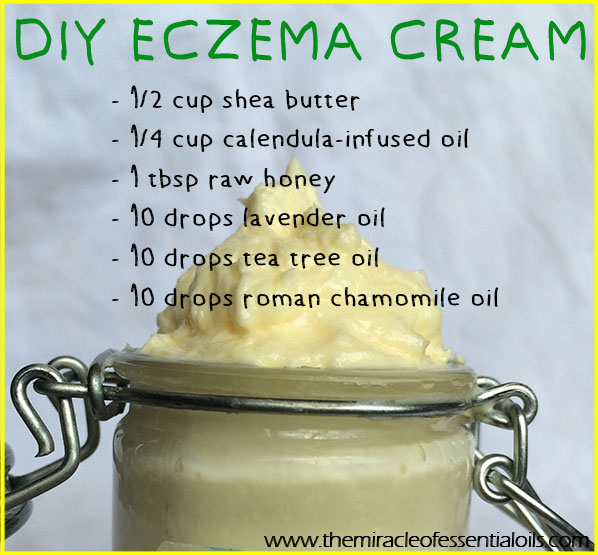 Directions
First things first, melt the shea butter in a double boiler to make it easier to work with.
When it's liquefied, pour in ¼ cup of calendula infused oil and 1 tbsp of raw honey. Stir well.
Now refrigerate the mixture for 15 minutes or until partially solidified. This makes it quicker and easier for whipping.
After the time is up, get out your hand mixer and whip it for 7 minutes into a fluffy cream.
Finally, add 10 drops each of lavender, tea tree and roman chamomile oils then whip again for a minute.
Your DIY essential oil eczema cream is ready!
Apply liberally on dry, itchy and inflamed eczema patches to soothe and heal them.