Eye creams are among the simplest beauty products to make at home. Find out how to make DIY essential oil eye cream in this post!
The first place wrinkles always form is around the eyes. And that's a major reason to start using eye cream NOW. The DIY essential oil eye cream we shall be making below has the following benefits:
Smooths out wrinkles
Prevents premature aging
Tones & tightens up skin
Moisturizes skin
Promotes blood circulation
Gets rid of under eye bags
Reduces dark circles
Makes skin supple and smooth
Let's look at the best safe essential oils to use for your DIY eye cream:
The Best Safe Essential Oils for Eye Cream
The skin around your eyes is very sensitive. That's why you can't just use any essential oil on it. Look for oils that are calming for sensitive skin and can be used neat without any problems. I suggest the following oils. The oils below definitely have anti-aging properties!
How to Make a DIY Essential Oil Eye Cream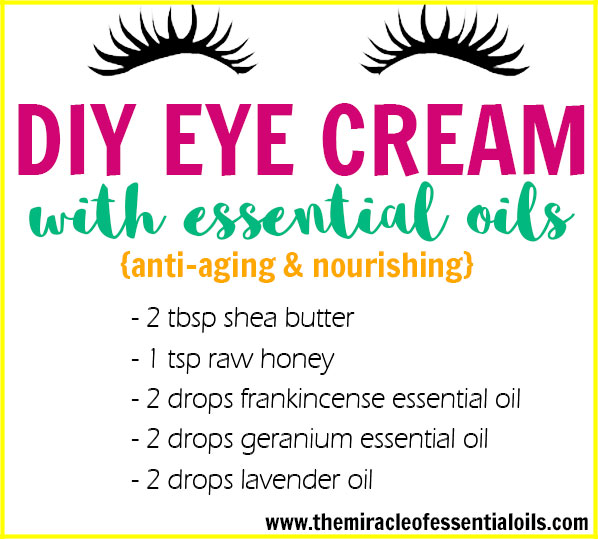 What you need
Directions
Into your small Magic Bullet blender, add the shea butter and raw honey. Blend till creamy.
Scoop out the cream and place it in your storage container.
Carefully add 2 drops each of frankincense, geranium and lavender oils. You can also use any of the safe essential oils mentioned in the post.
Now mix everything thoroughly with a disposable chopstick and voila!
Your DIY essential oil eye cream is ready! Store in a cool dry place and use clean dry ring finger to apply under each eye before bed.