Find out how to make an easy DIY essential oil acne face wash in this post!
If you've been buying febreze, you can stop now. I'll show you how to make something much easier, cheaper and less strong-smelling. I'm sure you know what I mean. Commercial fabric fresheners smell so strong and can irritate your poor nose.
Not to mention it has harsh chemicals in it that are totally unnecessary. Many people don't even use fabric freshener. For you who does, you're just adding unnecessary chemicals into your life, don't you think? Forego the chemicals and extra strong scent in commercial fabric freshener by concocting your own DIY Essential Oil Fabric Freshener.
Nice Smelling Essential Oils for Fabric
You can choose from a variety of essential oils to add to your DIY Essential Oil Fabric Freshener. Most essential oils have pleasant scents. If you want particular scents, then check out this list:
Soft, flowery and fresh – lavender essential oil
Long lasting, fun floral – ylang ylang essential oil
Lemony, fresh scent – lemon essential oil
Sweet fruity scent – sweet orange essential oil
Masculine – bergamot essential oil
Feminine – geranium essential oil
Fresh and clean – peppermint essential oil
Okay, now let's get straight onto the recipe:
Easy Recipe: DIY Essential Oil Fabric Freshener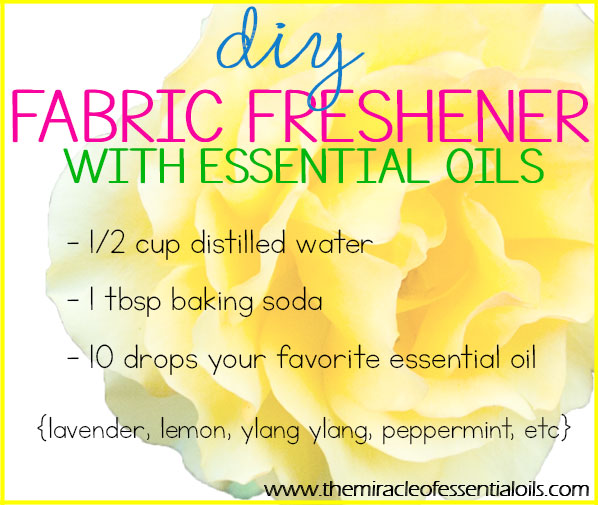 What you need
½ cup distilled water
1 tsp baking soda
10 drops essential oil of choice
4 oz amber spray bottle
Directions
First warm your distilled water. This is to make sure the baking soda dissolves in it.
Then using a funnel, pour in ¼ cup of warmed distilled water into a 4 oz amber spray bottle.
Next pour in 1 tbsp of baking soda.
Lastly, carefully add 10 drops of your preferred essential oil. I love ylang ylang.
Close the bottle and shake for 4 seconds to mix everything up.
Voila! Your diy essential oil fabric freshener is ready!
Store in a cool dry place. It'll last a long time but I'm sure you'll be making a new batch before the time is up! This stuff smells so good and it's so addictive!
To use, spray as needed on fabric and upholstery to freshen it up!