Show your face extra TLC to keep those wrinkles at bay! How? By doing a nightly DIY essential oil face massage of course!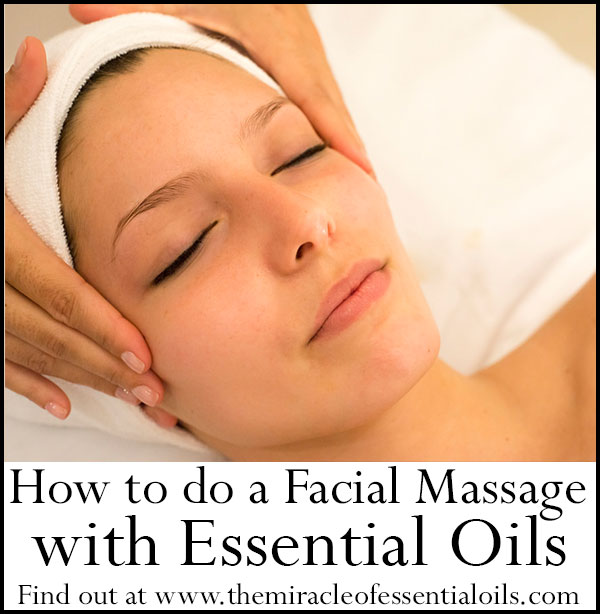 Facial massage is really important for anyone who wants to keep looking young even when they're old. It accompanies using nourishing oils and lubricants to seal moisture deep into the skin layers.
How to Make a DIY Essential Oil Face Massage
What makes this DIY essential oil face massage great is that it's suitable for all skin types. Yes, even acne prone and oily skin. That's because the oils used are non-comedogenic which means they will never clog your pores and cause breakouts.
Another reason is because all oils used are humectants are will lock moisture into the epidermis and deeper. They won't just sit on top of the skin.
Ingredient Profile
Before we move onto the recipe, let's take a look at how each of the ingredients is good for facial skin:
Argan oil – I chose argan oil because it is very good for anti-aging. It has a very high level of antioxidants that fight off free radicals that cause premature aging. Argan oil also has no comedogenic rating so it will not clog pores at all.
Hemp oil – Hemp oil is ultra-nourishing to skin cells. It also locks in moisture without being too oily. With its comedogenic rating of zero, hemp oil is sure to leave your pores clean and not clog them up ever.
Lavender oil – A soothing oil, lavender is good for sensitive and mature skin types. It is also moisturizing and fights premature aging.
Geranium oil – A great balancer, geranium oil is good for regulating sebum production. This prevents your skin from getting too dry or too oily. It also actively fights cystic and hormonal acne. Geranium oil is one of the few essential oils that boost collagen production, so it keeps skin smooth and wrinkle-free.
Frankincense oil – An ancient oil, frankincense is a gem when it comes to anti-aging. It deeply feeds skin with nourishing nutrients. Frankincense also has a firming effect on skin, which keeps it taut.
What you Need
Method
Into an amber glass dropper bottle, add the essential oils drop by drop.
Now pour in the argan oil and hemp oil.
Cap the bottle and shake gently to combine the oils.
Store in a cool dry place.
How to Do an Essential Oil Face Massage
Use this essential oil face massage serum at night time. It should be done right after you cleanse your face before bed.
Step One: If you don't wash your face at night, then you have to start doing it. It's a healthy practice that prevents clogged pores, breakouts and gives you a clean surface on which to apply your massage serum.
Step Two: Place about 2 drops of the massage serum on one palm.
Step Three: Now rub both palms together.
Step Four: Starting with the cheeks then chin, forehead and nose, start gently massaging your face in deep slow circular motions. Take at least 2 minutes doing this. Focus on using an upward movement to give your face a lift.
Step Five: When you're done with your face, you can use a drop for your neck. Yes, it's very important to massage your neck after your face because necks wrinkle up. Imagine having a youthful face and wrinkly neck. Totally not good looking.
Step Six: Wash and dry your hands then get some beauty sleep!
Wasn't this DIY essential oil face massage so easy? Yet it does SO MUCH to keep your face youthful and flawless!