Have you ever thought of making your own DIY essential oil face moisturizer? It's cost-effective, very nourishing and totally easy to whip up! The best part is it's suitable for all skin types, including acne prone skin!
One of the first things I ever made with essential oils is a DIY essential oil face moisturizer. It's unbelievably easy to make, especially if you have a high speed blender. It's simply a matter of throwing the ingredients into the blender and blending away into a smooth cream! This won't work so well if your shea butter is rock hard so make sure to purchase the shea butter that comes in a jar and can be scooped with a spoon. Now let's take a look at the essential oils we're going to use in this recipe:
Tea tree essential oil – Known to be a powerful antimicrobial, tea tree oil is good for warding off germs and acne-causing bacteria. It also helps protect the face moisturizer itself from germs.
Lavender essential oil – Lavender oil is soothing and calming. It has an anti-inflammatory effect on skin which reduces any redness and calms down inflammatory skin conditions.
Geranium essential oil – Geranium is balancing in nature. For skin, it balances out the natural oil production which helps maintain healthy, clear and smooth skin. If you've got greasy or dry skin, geranium can help normalize it.
All three of these essential oils blended together create a most BEAUTIFUL scented face moisturizer!
Okay, now let's check out the DIY lemon essential oil face moisturizer below!
DIY Essential Oil Face Moisturizer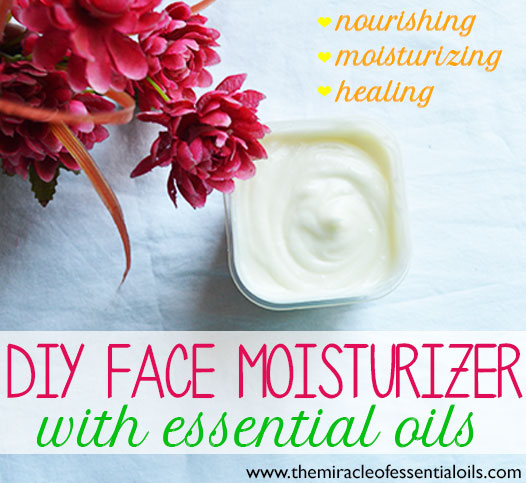 What you need
Directions
Add your measured amount of shea butter into a high speed blender.
Now pour in your rose water and raw honey.
Blend the ingredients until they combine to form a thick white cream.
Transfer the cream into a clean storage container.
Drop in the essential oils then stir with a disposable chopstick.
Your DIY essential oil face moisturizer is ready! Store in a cool dry place. It lasts for 4 months plus but make sure to use clean fingers to dip into and do not get water into it. You can store it in the refrigerator to lengthen shelf life.
To use, dot it on your clean forehead, cheeks, nose and chin, then gently massage it in.