Did you know that you can make your own DIY essential oil foot spray at home?!
What Is A Foot Spray?
Nothing fancy here! A foot spray is simply an aromatic spray that is used on the soles of the feet. Foot sprays are ingenious and I'm surprised they are not more common!
While you can buy commercial foot sprays or foot deodorants at a store, nothing comes close to making your own at home! When you make your own foot spray, you can control the ingredients and you can avoid all the synthetic unwanted chemicals used in commercial products.
Who Needs A Foot Spray?
A foot spray can be of use to many people. Particular conditions that can be remedied with foot spray include:
Foot odor
Athlete's feet
Fungal infections
Itchiness
Sweaty feet
Heat in feet
Insomnia
ADHD and other mental disturbances
DIY Essential Oil Foot Spray
Hold your nose high in the air because we are about to make the easiest, freshest foot spray EVER!
What you need:
A glass bowl
A spray bottle
¼ cup of lavender hydrosol or rose water
¼ cup of witch hazel
6 drops of lavender oil
3 drops of lemon oil
3 drops of rosemary oil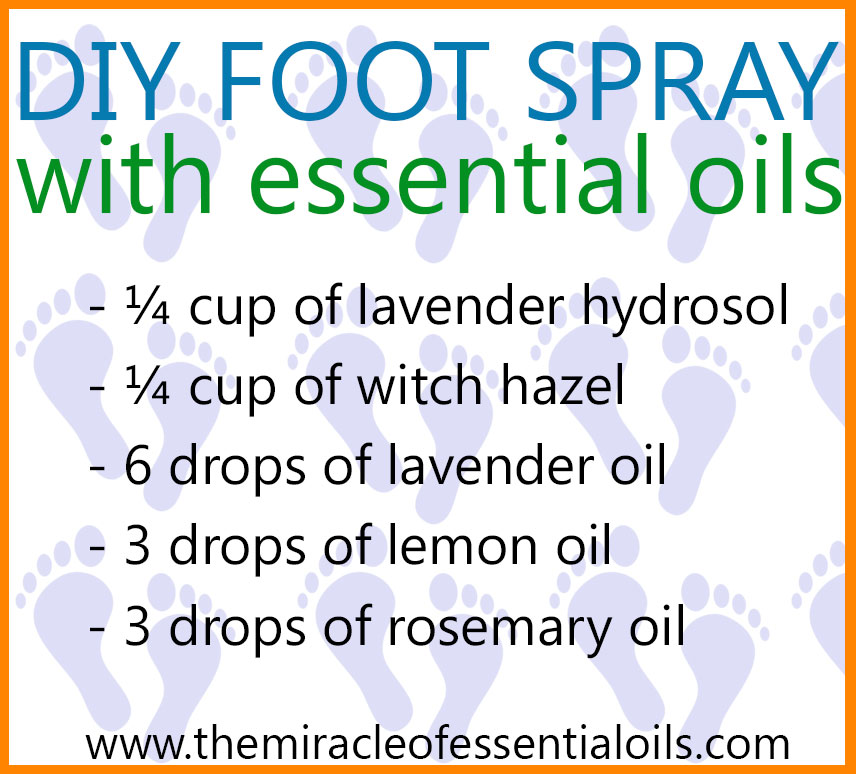 Directions:
Begin by mixing the witch hazel and the essential oils in a glass bowl. The witch hazel should act as an emulsifier for the oils, dissolving them. The success of this will depend on the alcohol content of your witch hazel. If the oils drops do not dissolve completely, do not worry, you can still use the spray, except that you'll have to shake it before each use.
Now using a funnel transfer the witch hazel essential oil mix into the spray bottle.
Next transfer the lavender hydrosol. You can use distilled water or other refreshing hydrosols such as peppermint instead.
Close the lid and shake again to mix everything up.
Your refreshing, healing foot spray is now ready for action!
To use, simply spritz 2 to 3 pumps of the spray on each foot. Make sure the spray dries up before you wear your soaks. Use as often as needed!

Have you tried a DIY essential oil foot spray before? Share your experience!