Leave a lovely lingering scent on your locks with this gorgeous DIY essential oil hair serum!
Do you want to be the girl with lovely smelling locks? You can definitely and easily achieve this when you have essential oils at home!
Try this simple hair serum for lovely smelling locks! It uses just two nice smelling essential oils: lavender and geranium oil. This combination smells floral, feminine and attractive! What's more is that lavender and geranium oil both balance scalp sebum, condition hair naturally and give it a beautiful shine!
There are of course lots of pleasant smelling essential oils you can use. But here are my top 10 best smelling essential oils for hair:
Geranium
Rose
Lavender
Jasmine
Ylang ylang
Neroli
Sandalwood
Lemon
Sweet orange
Palma rosa
If you want to know how to use these essential oils to scent your hair without making a serum, go here: 10 Best Smelling Essential Oils for Hair & How to Use
Okay, let's check out the super easy amazing DIY Essential Oil Hair Serum for Lovely Smelling Locks:
DIY Essential Oil Hair Serum Recipe

You only need a few ingredients to make this DIY essential oil hair serum. You can store this for up to 1 year in a cool, dark place! Here's the recipe:
What you need:
1 tbsp jojoba oil
1 tbsp argan oil
10 drops lavender oil
8 drops geranium oil
Small funnel
2 oz amber glass dropper bottle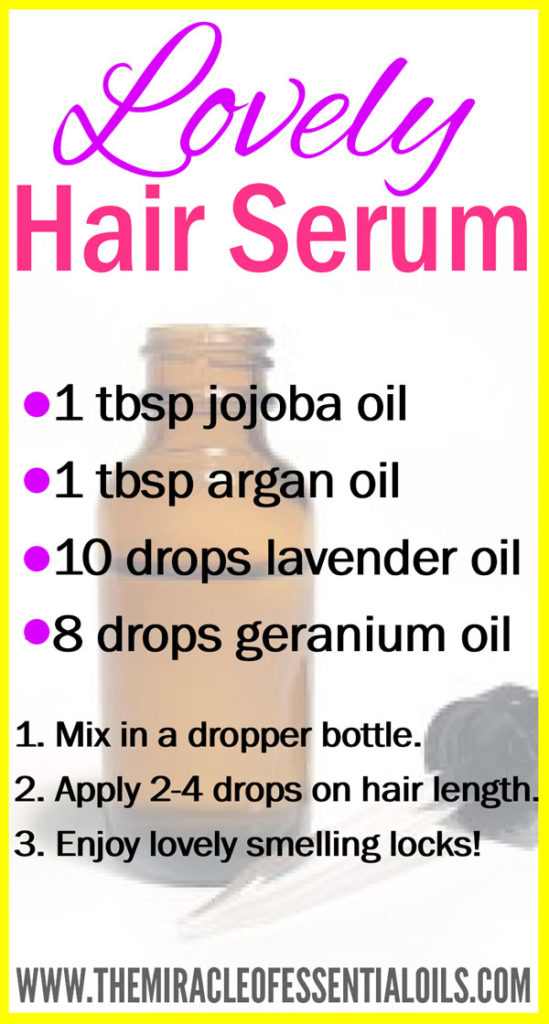 Directions:
Pour 1 tbsp of jojoba oil and 1 tbsp of argan oil into an amber glass dropper bottle, using a small funnel.
Next carefully add 10 drops of lavender essential oil and 8 drops of geranium essential oil.
Screw the cap on tightly.
Shake the bottle well to combine very well.
To use, place 2-4 drops on one palm, rub both palms together and rub them along your hair length. Your hair is going to smell gorgeous. The scent lingers in your locks for up to 4 days! Apply on clean dry hair.
Now brush and style your hair as usual!
Other Essential Oil Combinations to Use
Feel free to use ANY essential oil of choice! Sometimes I use ylang ylang oil alone. It has a nice bubbly floral scent that's very long lasting! If you have dry hair ends and generally frizzy hair, use jasmine essential oil. For oily hair and a nice citrusy scent, use lemon or sweet orange essential oil!

Go ahead and make this DIY essential oil hair serum for lovely smelling locks naturally!