Try this DIY essential oil hair spray recipe that will fix any bad hair day, easy!
What Are The Benefits of Using Hair Spray?
I'm sure you've seen people with beautiful hair, with not a single stray hair in sight. Their hair sheens, without any signs of grease and you wonder how they're able to pull it off. The answer: hair spray!
Sadly, hair spray is one of the most toxic beauty products out there. It contains synthetic chemicals, synthetic fragrances, plastics, VOCs, aerosols and other toxic, unpronounceable compounds. Many of these ingredients are KNOWN carcinogens, hormone disrupters and immune-suppressants.
Because of my respiratory issues that I suffered with throughout my childhood and teenage years, I never used hair spray in my life, save for the odd dance rehearsal/performance that I used to participate in school.
But if you can't use conventional hair spray, like me, you can make your own! That's right, a beautiful, 100% natural diy essential oil hair spray!
DIY Essential Oil Hair Spray Recipe
You only need a few ingredients to make this rose essential oil perfume. You can store this for up to 2 years in a cool, dark place. Here's the recipe:
What you need:
¾ cup of filtered water
1 teaspoon of alcohol
2 teaspoons of table sugar
5 drops of geranium oil
5 drops of sandalwood oil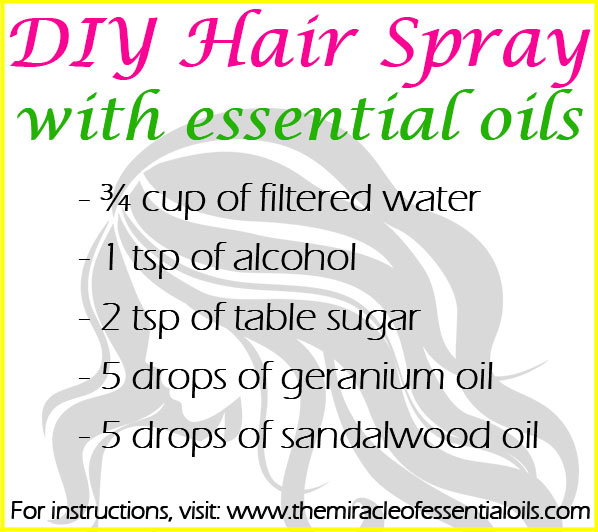 Directions:
You'll need to make a very basic, very light sugar syrup. Bring the water to a boil and reduce the heat to low. Now add in the sugar and stir until you see no more sugar crystals. Switch off the flame immediately.
Allow it to cool. While this is cooling, get a small container, add in your alcohol and carefully drop in the essential oils. Stir the essential oils with the back of a spoon or toothpick.
Now get your empty spray bottle and first pour in the sugar water into it, with the aid of a funnel. Next, pour in the alcohol-essential oil emulsion.
Screw on the cover/lid and shake to mix everything together.
Your hair spray is now ready!
Other Essential Oil Combinations to Use
Feel free to use ANY essential oil of choice! Some great essential oils for hair include vetiver, cedarwood, rosemary and lavender. You can even decide to eliminate essential oils and make a scent-free hair spray if you so wish.

Will you try out this diy essential oil hair spray recipe? And if you have your own homemade hair spray recipe, please do share so we can all benefit!