Freshen up your pillows, sheets, towels, laundry, bathroom rugs, etc using this DIY essential oil linen spray!
Everyone loves retiring on a freshly made comfy bed at the end of the day, right?! Now imagine said comfy bed had a fresh soothing scent that relaxed the mind and made you sleep better! All you need to do is spray this DIY essential oil linen spray on your pillows and sheets!
Wanna know an easy way of keeping your bathroom smelling fresh and clean? Just spray this linen spray on your towels and bathroom rug! A clothes hamper can also be freshened up using this linen spray.
Isn't this DIY linen spray so amazing – it has so many uses in your home! And the best part is that it's totally cheap and easy to make. You only need 4 ingredients but it's all natural, non-toxic and has a beautiful fresh scent of lemon + lavender!
You can customize this linen spray by using different essential oils of your choice. Choose relaxing and calming scents to help you fall asleep better. Here are some good combinations:
Essential Oil Scent Combinations for Linen Spray
How to Make a DIY Essential Oil Linen Spray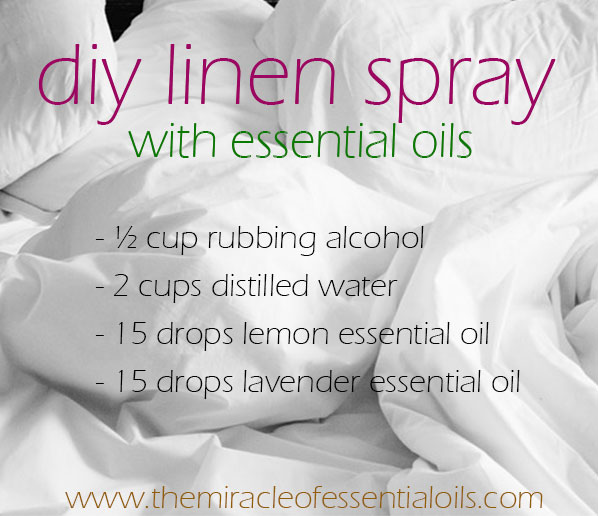 What you need
Directions
Using the funnel, pour ½ cup of rubbing alcohol into your spray bottle. You can use an amber bottle to protect the product from light.
Now carefully add 15 drops of lemon essential oil and 15 drops of lavender essential oil.
Top with 2 cups of distilled water.
Close the bottle and shake well to combine everything.
Your DIY Essential Oil Linen Spray is ready! Spray on any linen around the home to freshen it and give it a nice scent. Use on bathroom rugs, pillows, sheets, kitchen towels, bath towels, etc!