In today's essential oil recipe, we shall look at how to make a DIY essential oil lotion bar! Have fun!
Lotion bars are fun, quick and easy ways to keep your skin moisturized and looking smooth! Adding essential oils is even better as these plant extracts offer therapeutic properties. You can use lavender essential oil for a night time lotion bar, citrus for an uplifting lotion bar and rose for a floral scented lotion bar, etc!
Essential oils can help you make scented lotion bars without relying on fragrance oils. They also have antibacterial properties that fight off germs on your skin. Being antibacterial also protects your lotion bar from bacteria and other icky things.
Essential Oil Blends for Lotion Bars
Here are some fantastic essential oil blends for beautiful smelling lotion bars. You'll smell gorgeous!
DIY Essential Oil Lotion Bar Recipe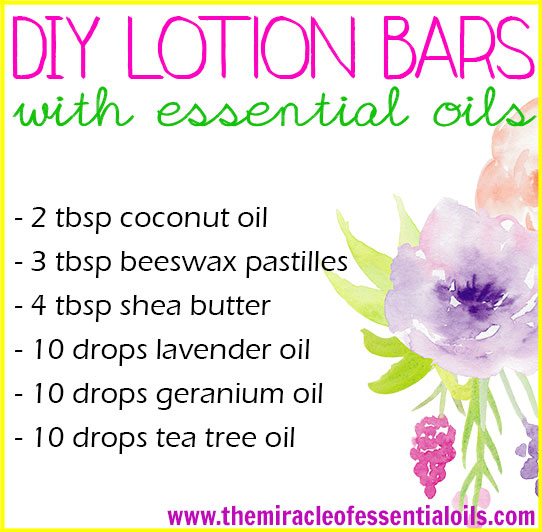 What you need
Directions
In the saucepan, add all your ingredients and melt them over a medium-low heat on the stove top.
Once melted, remove from heat and let it cool for 4 minutes before adding your essential oils. Stir well.
Pour into silicone molds and place it in the refrigerator for 15 minutes to set and harden.
When the time is up, pop the lotion bars out of the molds and store in a mason jar in a cool dry place.
To use, rub a lotion bar all over your skin. Your body heat will melt a thin layer of the lotion bar on your skin, leaving it moisturized and smooth.