Got a stinky mouth? Then you need this DIY essential oil mouth spray in your life right now!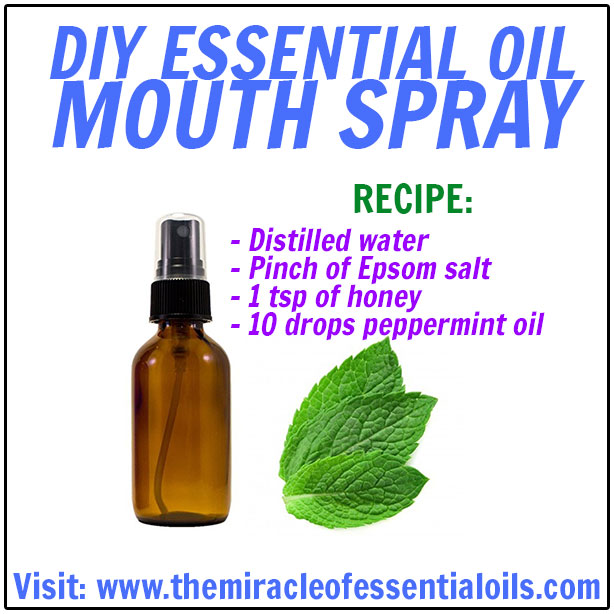 A mouth spray can be a life saver. No jokes. Imagine your boyfriend shows up randomly at your house and you have nasty breath because of the garlic pizza you hogged a couple hours ago. Or you're at work and drank lots of coffee only for your boss to call you for a one-on-one meeting. Both incidents happen big time and they're so cringy!
What to do in such scenarios?! You need to act fast to get rid of bad breath. There's absolutely nothing I can think of except those breath mints and a mouth spray. But having something in your mouth while you talk…your boss definitely won't be happy with that! So the only option – mouth spray! And please, avoid the conventional mouth sprays laden with chemicals – they're so not worth it.
In this post, I show you how you can make a quick mouth spray for a quick spritz in your mouth to freshen your breath instantly!
DIY Essential Oil Mouth Spray Recipe
You'll need only 3 ingredients:
Distilled water – which acts as the base ingredient for this mouth spray. It also moistens your breath which fights bad breath.
Epsom salt – to disperse the essential oils, neutralize bad breath and stimulate saliva production which removes bad breath.
Honey – has a sweet taste, stimulates saliva production.
Peppermint oil – Very refreshing and cooling, gives a fresh minty breath, completely masks bad breath and also encourages saliva production. It also treats bad breath due to digestive problems because it promotes proper digestion and helps with indigestion.
Instead of using peppermint oil, you can of course use other bad breath fighting essential oils. Some of them include:
Spearmint
Parsley
Rosemary
Sweet orange
Lemon
Grapefruit
What you need
Distilled water
A pinch of Epsom salt
A tsp of honey
10 drops peppermint essential oil
Tiny mouth spray bottle
Method
Warm a little amount of distilled water then add a pinch of Epsom salt and let it dissolve.
Then stir in a tsp of organic honey.
Now add 10 drops of peppermint oil. Stir well.
Use a dropper to fill up the tiny mouth spray bottle.
Voila! Your DIY essential oil mouth spray is complete!
Keep it in your purse or pocket to instantly freshen your breath!
So, would you go ahead and make this DIY essential oil mouth spray? One thing's for sure: it definitely works. Share your thoughts below!