Freshen your breath naturally with a diy essential oil mouthwash that whitens teeth!
What Is An Essential Oil Mouthwash?
If you are on this page, you probably already know what essential oils are and what an essential oil mouth wash is!
Mouth washes have been used since ancient times to neutralize bad breath, freshen the mouth after meals and even to whiten the teeth and prevent decays!
Long ago, mouth washes were made with natural ingredients and were very simplistic yet effective. Today modern day mouth washes are rife with synthetic chemicals and toxic compounds, whose side effects are very scary indeed.
Many of the constituents of mouth washes are known carcinogens, neurotoxins and irritants. What's more, they destroy the biofilm that coats the enamel, increasing the chances of cavities, demineralization and decays.
By making your own DIY essential oil mouthwash, you can avoid all the negative effects of commercial mouth washes while getting better results. You also get to save money while you're at it!
DIY Essential Oil Mouthwash Recipe
A mouth wash is a liquid solution that contains compounds that refresh the breath. In this diy essential oil mouth wash recipe we shall be using minimal ingredients, that you can pronounce and that you will be very familiar with!
What you need:
½ cup of hydrogen peroxide
½ cup of distilled water
8 drops of peppermint oil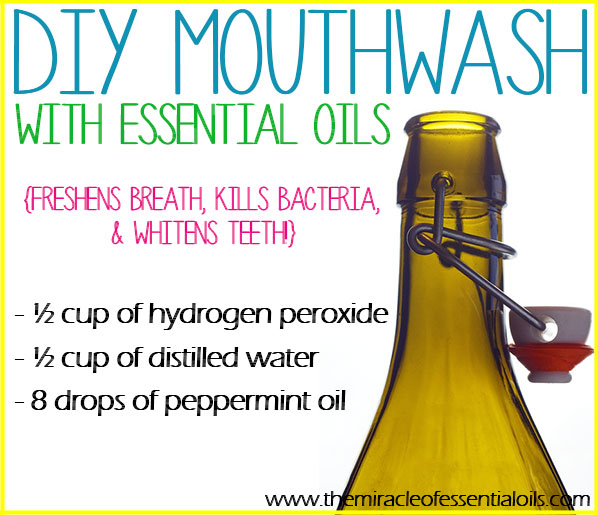 Directions:
Begin by mixing the hydrogen peroxide with peppermint oil. Stir to make sure it dissolves completely.
Now add in the water and stir again.
Transfer to a suitable container to keep on your bathroom counter.
This mouthwash stays fresh for 7 days.
Other Essential Oils for Oral Care
Peppermint oil is the best for battling bad breath, halitosis and imparting a fresh breath. Other essential oils that are great for oral care that you can add to your mouth wash include:
Clove oil: anti-inflammatory, reduces pain in gums and teeth, prevents tooth sensitivity
Frankincense oil: Fights gum disease, reduces swelling in gums, strengthens gums
Lemon oil: May help in whitening teeth
Will you give this DIY essential oil mouth wash a go?!