Learn how to make your own DIY essential oil neck wrap, without any sewing knowledge whatsoever!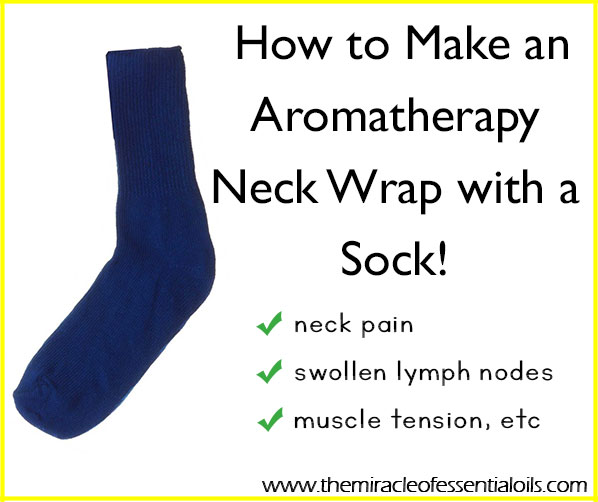 What Is A Neck Wrap?
A neck wrap is simply a wrap (it could be a store-bought wrap or a homemade wrap) that is placed around the back of the neck.
Neck wraps are very useful in naturally relieving many conditions, including neck pain, muscle tension, shoulder pain, headaches, swollen lymph nodes, headaches, insomnia and migraines.
You can buy a ready-made neck wrap online, or you could even sew your own wrap if you have sewing knowledge.
But I'm here to show you an unbelievably easy way to make your own neck wrap in a matter of minutes!
DIY Essential Oil Neck Wrap
For this DIY neck wrap you only need a few materials! I will warn you though, the only downside to this diy neck wrap is that you may not be able to travel around or walk outside with it, since it may not be that pleasant looking.
But feel free to use it without embarrassment at the comfort of your own home! And hey, if you're the kind of person who doesn't give a flying fart about what anyone thinks, you can rock it for outings as well! You'll find out soon why…
What you need:
Long sturdy stockings
Dry rice grains
Essential oils such as lavender, peppermint or any other of your choice
Directions:
Get your clean pair of long, sturdy stockings (they must be thigh length stockings) and make a knot about a hand span from the bottom part of the socks.
Fill the sock with rice grains until you reach the top, with still about a hand span length of stocking space left.
Now make another knot two or more inches from the rice level. You need to make sure the rice is not too tightly packed because you need the neck wrap to lie freely along the shape of your neck. If it's too tight, it will be too stiff and won't lie snugly around your neck.
As easy as that, your diy essential oil neck wrap is now ready! But when do you apply the essential oils?! You apply them right before you fit the neck wrap along your neck! Please read below to find out how to use the neck wrap.
How to Use Your DIY Essential Oil Neck Wrap
To use, you will need to warm up your neck wrap first. Most people do it by heating it in the microwave for just two minutes.
Now take out the neck wrap and apply 2 – 4 drops of essential oil of choice to the outer layer of the neck wrap.
Wait for a few seconds to allow the essential oils to sink in and be absorbed into the rice. You may not want concentrated essential oil to come into contact with your skin, especially if you have sensitive skin since it may cause some irritation. But this can be avoided by waiting for just 30 seconds to let the oils sink in a bit.
Now drape the warm neck wrap around the back of your neck and relax.
Keep it on for until the heat cools off. Repeat as many times as needed during the day.